Despite Harry Roque's, Rodrigo Duterte's spokesman, attempt to explain that the context of the president's remark was that he was angry with insurgents who forced a peace process with the government to collapse, nothing could quell the crowds.
"I have been saying again and again, do not take the president literally but take him seriously," Roque told reporters.
Commenting on Duterte's speech, Human Rights Watch said that the Filipino president's remark was the latest in a "series of misogynist, derogatory and demeaning statements he has made about women," that encourage sexual violence and war crimes.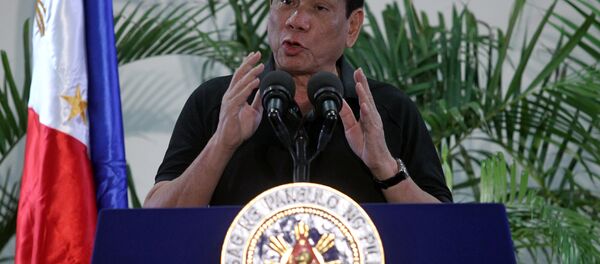 3 February 2018, 00:02 GMT
Karapatan, a human rights NGO based in the Philippines, said that the President "had distinguished himself as a frothing-in-the-mouth fascist who incited the worst violations of international humanitarian law."
Duterte's remarks "are but the latest of the series of this madman's display of tyranny, lunacy and machismo," Karapatan Secretary General Cristina Palabay added.
Social media users released fury at him, saying that such threats couldn't be dismissed.
Some addressed to the US President Donald Trump, asking whether he would denounce his counterpart, with whom he claimed to have "great relationship":