The electronic skin, or e-skin, is a thin artificial material that mimics functions of real human skin, thanks to a variety of sensors embedded in the structure of the material. Those sensors include pressure, temperature, humidity and even air flow sensors. With such capabilities, e-skin could be used both in robot and human prosthetics development.
Several similar materials are now being developed across the world, but the one developed at University of Colorado Boulder, US, has one significant advantage: it's recycleable. If damaged severely, it can be liquefied and then molded again.
Talking to Radio Sputnik, Jianliang Xiao, an assistant professor in CU Boulder's Department of Mechanical Engineering who is leading the research effort, explained how this technological marvel works.
"You can imagine a robot holding a baby like the parents would do, so certainly you'd like to make sure that robot can feel when the pressure is too high, so it doesn't hurt the baby," he said.
He also offered the possibility that such robot nanny could use the temperature sensor to check on baby's temperature should the little one catch cold.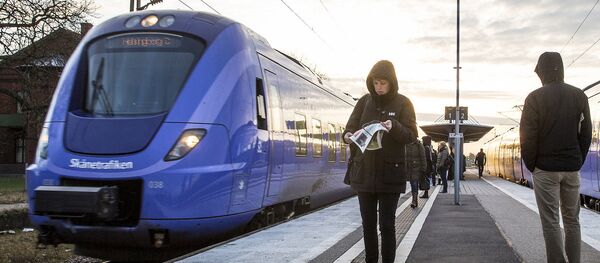 29 December 2017, 09:30 GMT
The new e-skin will also allow enhancing mechanical prosthetics, as it will give the human user necessary tactile feedback modern prosthesis lack at the moment.
According to the press release, published on the University website, the Colorado Boulder e-skin "can be easily conformed to curved surfaces like human arms and robotic hands by applying moderate heat and pressure to it without introducing excessive stresses."
What makes this product revolutionary, however, is, as Xiao points out, the ability to completely heal itself from damage. And if the skin is damaged beyond repair, it can be recycled entirely, by putting the skin it into a special recycling solution.
"We create millions of tons of waste every year, because we use devices like cell phones, computers and TVs, and after we use them, we just discard them. The majority of these devices are not being recycled; and they are pollutants," he underscored.
The e-skin is made of covalently bonded dynamic network polymer laced with silver nano particles; this material is produced from components that are commercially available. Commercial availability of source compounds make the electronic skin arguably cost effective: the piece of e-skin produced specifically for demonstration did cost the team about $10, Xiao said.
When asked about when this particular model of e-skin will be available for consumers, Xiao said that it would take several years from today.
"It depends on how fast we can make our devices more reliable and also scalable manufactured," he said.