New Delhi (Sputnik) — Stacks of fake currency notes carefully wrapped in plastic sheets are stashed inside boats made of aquatic weeds and set afloat along trans-border rivers. This is the novel method adopted by Bangladeshi smugglers to dodge Indian authorities who have tightened vigilance at the border and seaports as part of an unprecedented crackdown on fake currencies. An investigation by a Sputnik correspondent revealed that floats, made of banana trunks, are also used to transport the fake bills to smugglers on the Indian side of the river who use trammel nets to fish out the parcels.
"Huge caches of counterfeit Indian currency notes have been flowing from Suti, Kaliachak, Baistabnagar or other border areas to India. Smugglers have been using river water to get these notes inside India. Sometimes, they even hurl bundles of notes attached with a stone into Indian houses situated close to the border. From there, these fake currency notes reach different destinations like Delhi, Mumbai, Pune, Bangaluru," Mukesh Kumar, Superintendent of Police, Murshidabad told Sputnik.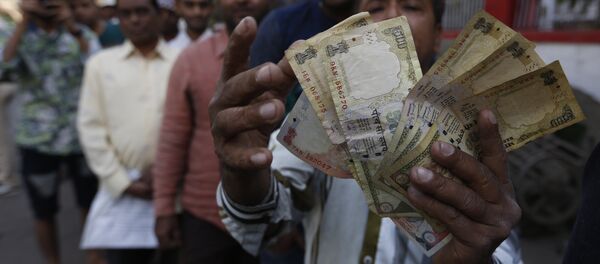 16 February 2017, 13:29 GMT
Murshidabad is a town in the Indian state of West Bengal that shares a vast border with Bangladesh. The police officer told Sputnik that such smuggling activities are rampant on the Pagya River.
"More than one dozen people have been arrested in the last one month. All of them were part of a racket that smuggled fake Indian currency through the Pagya River from Bangladesh. We have launched a special operation to tackle this menace," another office of the Suti police station told Sputnik.
On 5 February this year, Murshidabad police arrested Shadikul Sheikh and Kabirul Miyan from Shamsherganj with 300,000 fake Indian Rupee. Earlier on 2 February, a mother-son duo was arrested from Kaliachak with 100,000 fake Indian Rupee. Police say the arrest led them to other suspects who revealed that one Bablu Sheikh was masterminding the entire racket. Shiekh reportedly resides in Khulna Telkupi of Bangladesh.
READ MORE: Funny Money: India's Counterfeit Cash Problem Valued at $70Mln
Police say that those handling the business in India are mainly illegal Bangladeshi immigrants and some of them have even secured Indian identities.
"But, in the recent past, we have strengthened our local intelligence gathering machinery and out efforts have started showing results as evident from the frequent arrest of such smugglers," superintendent of police, Mukesh Kumar said.
Following the 2016 demonetization drive that saw high-value currency notes being withdrawn from the economy and replaced by new bills, the Reserve Bank of India (RBI) claimed that the new notes had high-security features. But, the recent arrests suggest that counterfeits of the new bills are already in circulation.
As per the data available with India's National Crime Record Bureau, fake currency notes of face value of INR 215.4 million ($3.3 million) have been seized from the date of demonetization till 31 December 2017.
"The Ministry of Home Affairs, Ministry of Finance, RBI, security and intelligence agencies of the Centre and states are working in coordination to prevent the illegal activities related to fake Indian currency notes (FICN)," Hansraj Ahir, India's Minister of State for Home Affairs said on February 6 in the parliament.
However, despite such tall claims made by the Indian government, authorities are finding it increasingly difficult to challenge the smugglers.
READ MORE: Indian Overnight Currency Ban Hits Bull's Eye on Terror Funding
"Flow of fake currency notes has increased manifold in the last couple of months. In January and February this year, we made arrests every second or third day," Mukesh Kumar said.
In the entirety of 2017, fake Indian currency notes of face value INR 5,400,000 were confiscated from different locations bordering Bangladesh. In the first 40 days of 2018, the figure is 1,500,000.