Lopyreva was awarded the title of Miss Russia back in 2003 and was appointed a World Cup ambassador in 2015. During her visit to Argentina, Lopyreva stressed her most important mission: "letting football fans around the world know what to expect in Russia."
"Our country has provided all the necessary conditions: security will be as tight as possible, all the infrastructure is prepared for the event, but the most important part is actually the people… We are all united by our love for the sport, regardless of ethnicity, sex or social status."
READ MORE: Cultured Beauty: Miss Russia Gives Start to a Festival in Dubai
The model attended the contest between the local Boca Juniors and Temperley at La Bombonera stadium, where she sat next to Argentina's national football team head coach, Jorge Sampaoli and Boca Juniors President Daniel Angelici.
She also met with the president of the Argentinian Football Association, Claudio Tapia, and stopped by the Russian Scientific and Cultural Center, also known as The Russian House. "It was a business trip so I was busy all day long, but I'm already looking forward to my next visit because I just loved the atmosphere in this city."
READ MORE: Football Amber: FIFA World Cup 2018 Gets Its Own Jewelry Collection
The 34-year old is also keen to convey the notion of Russia being much more than just Moscow and St. Petersburg. Lopyreva herself was born in Rostov-on-Don, one of 11 cities hosting the tournament.
© AFP 2023 / Alejandro PAGNI
World Cup Russia 2018 ambassador Victoria Lopyreva (L), next to Argentina's national football team head coach, Jorge Sampaoli (2nd-R) and Argentina's Boca Juniors's President Daniel Angelici (C) before the Argentina First Division Superliga football match between Boca Juniors and Temperley, at La Bombonera stadium, in Buenos Aires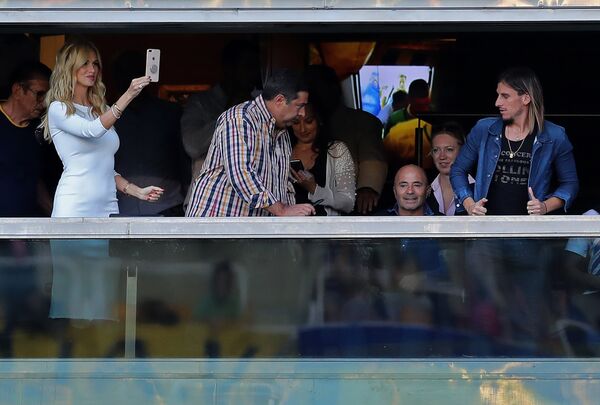 World Cup Russia 2018 ambassador Victoria Lopyreva (L), next to Argentina's national football team head coach, Jorge Sampaoli (2nd-R) and Argentina's Boca Juniors's President Daniel Angelici (C) before the Argentina First Division Superliga football match between Boca Juniors and Temperley, at La Bombonera stadium, in Buenos Aires