"Besides the Taliban and Daesh, there are other terrorist groups in Afghanistan, such as Lashkare Taiba [the Army of God, one of largest and most active groups in Southern Asia], Jamiat-i-Islami [the Islamic Congress, an Islamist political party in Pakistan], Goruhe Torkestane Sharqi [Islamic Movement of East Turkistan, a Uigur militant group that seeks to create an independent Islamist state in Xinjiang], Al-Qaeda, Jamaat Ansarullah [an extremist organization from Tajikistan], and Hezbe Tahrike Eslami [Islamic Movement of Uzbekistan, an Uzbek terrorist group], as well as other groups from South Asia and Pakistan, which play a primary role in violations of security in the region," Ramanesh said.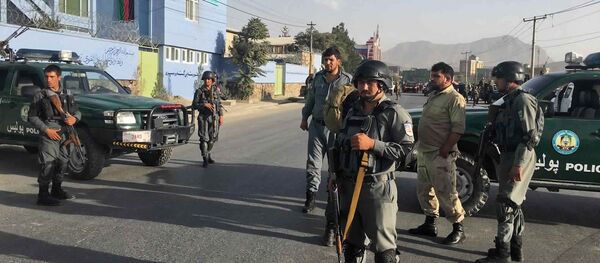 13 February 2018, 18:32 GMT
The nation's security forces also name other groups: Hizb ut-Tahrir [Party of Liberation, an international pan-islamist political party], Jeishe Mohammad [the Army of the Prophet], Maulvi Nazir [an influential Taliban offshoot] and Tehrik-e Taliban Pakistan [an Islamic organization that unites various Pakistani groups]. These groups also arm themselves in Pakistan and then move to Afghanistan.
According to Ashraf Ghani, president of Afghanistan, the reason for the country's instability is the ongoing activity of a large number of terrorists from these various international groups.
"There are 21 terrorist groups acting in the country. We are surrounded. We will continue to fight until we solve our security problem," he said, speaking before journalists.
According to 2017 statistics, some 2,000 terrorist attacks killed or injured roughly 25,000 people in Afghanistan.
Radmanesh noted that the majority of the terrorists' training bases are in Pakistan.
"There are terrorist groups being created in Central Asia as well, who then fight in this country. But they are not a threat to us. All schools and training centers for terrorists were in Pakistan. They are armed by the existing shuras [Taliban authority bodies]: Miranshah shura, Peshawar shura, Gerdi shura and Quetta shura."
The statements by Afghan officials that Pakistan is to blame for the ongoing war are not new. But recently, relations between the two countries cooled significantly because of harsh Afghan criticism of its southern neighbor.
Following the bloody events of this past January in Kabul, when terrorists killed 228 people and injured 360, the Afghanistan president addressed his people:
"Pakistan is where the main center of the Taliban is. Now the government of Pakistan decides that what fits them, fits the rest of the Islamic world."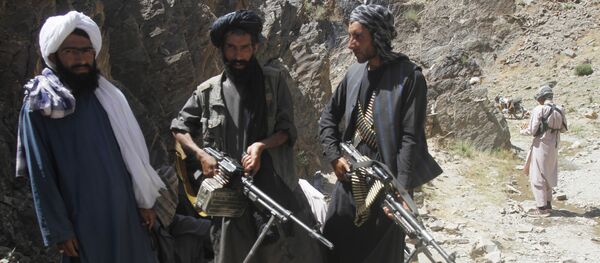 14 February 2018, 15:20 GMT
Radmanesh says that international terrorist groups have also chosen Pakistan as their center of operations. "Terrorists from other countries will also come to Pakistan, get weapons there and then will move to Afghanistan."
According to him, the number of militants from various groups reaches up to 30,000 people, although not everybody has the same goals — some are opportunists. "There are 30,000 militants out there. But there are other people with other goals. There are even thieves who act under cover of the name of Taliban and use the situation in their own interest."
Radmanesh said that terrorists are scattered across the country. "In some provinces, there are no militants. And in provinces like Panjsher, Bamyan, Daikundi and Kabul, there are only a few terrorists. They are mostly based in Pakistan. And even if we kill 10 of them, Pakistan will hire 12 people instead, because of the strategic importance of these regions."
In February of this year, Russian Ambassador to the UN Vasiliy Nebenzya expressed concern regarding Daesh's growing ranks in Afghanistan after its defeat in Syria. "Militants of the Daesh terror group are moving to Afghanistan after their defeat in Syria and there are some 7,000 people there."
Radmanesh does not agree with this count.
"One can say there are some 3,000 Daesh militants. For example, there were talks that there were 3,000 Daesh terrorists in Darzab district in Jawzjan province, but when we conducted an operation there, we killed 80 terrorists and that was about it."
The Ministry of Defense representative said he does not have precise data about terrorists' numbers.
"All data we cite are imprecise. It's better to speak the truth. There are roughly 3,000 of them. Most of them are in Nangarhar. When we conduct  operations, they flee beyond Durand line," he said, referring to mostly unmarked 1,510 mile long border between Afghanistan and Pakistan.
According to a Ministry of Defense representative, after March 21, Afghanistan's armed forces are going to increase the number of counter-terrorist operations.