Sputnik: What can you say about the situation with Netanyahu, he has been accused many times over the years, and he has always managed to avoid prosecution, do you think this is going to be the case this time?
Emmanuel Navon: So far we're only talking about a police recommendation and in order to be indicted there would be to be a decision by an Attorney-General, that decision is likely to take up to a year, because the Attorney-General will have to go through the material, take advice, so we should expect a decision from the Attorney-General by January 2019, so until then Netanyahu is safe politically, especially since his coalition partners announced already, that they do not intend to topple the government unless there is a full indictment decided by the Attorney-General.
Sputnik: What about public opinion, how does the public feel about Netanyahu; this is not the first time he has been accused of corruption?
Emmanuel Navon: So on the one hand, there's kind of a fatigue from Netanyahu, who has been in power for a long time already, on the other hand, we're talking about charges or suspicions, or accusations that might be criminal, but are not extremely serious. We're talking about getting expensive gifts form a friend over the years, such as cigars and champagne, and about a conversation between Netanyahu and the editor of the newspaper Yediot Aharonot, that's not something unusual for a politician to try to get good coverage from a newspaper and getting gifts from a friend. It's something that's a bit borderline, but it's not something extremely serious, so you don't have this harsh public reaction, even though there have been demonstrations for the past few months against him and against corruption, but even if the Attorney-General decides to press the charges, they're not extremely serious ones, so you don't have this, I would say, harsh reaction from the public.
READ MORE: Netanyahu Says Police Probe Against Him 'Like Swiss Cheese' Full of Holes
Sputnik: Do you think that the Netanyahu era is in decline at this point?
Emmanuel Navon: On the one hand, people have been predicting the end of his political carrier for 20 years and he's still around, on the other hand, I must say, that this time it looks like the Attorney-General doesn't have a choice but to indict him, because in the two cases the police recommend an indictment, and I find it hard to imagine, that the Attorney-General would decide not to indict him on any of the charges, and if he is indicted, that would spell the end of his political carrier, but as I said, it should take another year for the Attorney-General to make his final decision.
Sputnik: Netanyahu has actually said that he will remain in office and even seek re-election. Do you think that he would be elected, if he were to make it to the next elections?
Emmanuel Navon: By law the Prime Minister would only have to resign if he was convicted. So technically he would not have to resign, if only indicted, but politically it would be impossible for him to remain in power and, let alone, to run again, because he would be abandoned by his coalition partners. And don't forget that because Israel is a parliamentary democracy with proportional voting, in order to be in power, in order to be Prime Minister you need to form a coalition and it would be almost impossible for Netanyahu to form any coalition with any political party if he were indicted. So technically he might be able to run again as the head of his party, if his Likud party does not decide to push him aside, but, again, I don't see a realistic scenario in which he would be able to form a coalition once he indicted, if he is indicted of course.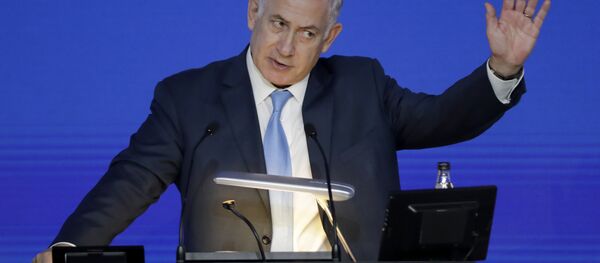 14 February 2018, 12:25 GMT
Sputnik: Back in the day, when he was an opposition leader, he actually urged Prime Minister Ehud Olmert, who was in a similar circumstance, to resign during a police investigation and for some reason he's not following his own advice. What do you think about that?
Emmanuel Navon: Well there is a reason, at the time he was head of the opposition and today he's Prime Minister, that's the whole difference. As you know, politicians tend to make statements depending on where they're standing, of course, when he was the head of the opposition, he declared that the Prime Minister at that time, Ehud Olmert, had to stand aside, step back, just because of police recommendations. Today, of course, he's saying the very opposite, that's called being a politician.
Sputnik: Have there now been politician leaders that have urged him to step down?
Emmanuel Navon: As a matter of fact, all leaders of the opposition, the Labor party, aslo Yair Lapid's centrist party (Yair Lapid — Israeli politician, Chairman of Yesh Atid party) have declared that he should step down even before the decision of the Attorney-General. There's another element here by the way, the head of the Yesh Atid Party, Yair Lapid, who is seen by many as maybe the future Prime Minister of Israel, replacing Netanyahu, will also be a witness in the investigation against Netanyahu in the tax exemptions that Netanyahu is trying to take from a friend, the businessman who gave him all these presents, so the most likely contender for the job of Prime Minister, Yair Lapid, is also going to be testifying against Netanyahu in the police investigation, which of course adds to the drama.
The views expressed in this article by Emmanuel Navon are solely those of the speaker and do not necessarily reflect the position of Sputnik.