In an exclusive interview with Inside Edition Tuesday, Hyman announced that she will be appealing the department's decision to fire her.
"I 100 percent want my job back," Hyman told interviewer Les Trent. "I will take every avenue available to get my job back."
According to Hyman, the May 2017 investigation was launched after an ex-boyfriend told one of Hyman's colleagues at the police academy that she'd acted as a dominatrix before pursuing a job with the department. After catching wind of Hyman's past, Hudson County Sheriff Frank Schillari initiated an investigation and ultimately suspended her six days before she was set to graduate.
Kristen Hyman as Domina Nyx Blake
She was later allowed to graduate from the academy in June after a judge rescinded the suspension, noting the department's decision was inappropriate as she had not yet attended a disciplinary hearing. However, once Hyman graduated, officials immediately put her on paid administrative leave pending the hearing, which was scheduled for November 14. The hearing, which concluded last Wednesday, ended with Hyman's dismissal from the force.
Though the department labeled Hyman's behavior as "unbecoming of a public employee," she told Trent that the films she acted in from 2008 to 2012 were just "acting roles."
"I don't look at this as an embarrassing thing," Hyman said. "These are acting roles, filmed acting roles. I am not 100 percent sure why anyone would think I should be embarrassed about it."
Kristen Hyman as Domina Nyx Blake
"I was never filmed naked or doing sexual acts," she added, before comparing her work as character Domina Nyx Blake to the film series "50 Shades of Grey."
"I was in my early 20s, I had been doing acting and pursuing acting as a career," she explained. "Someone had mentioned filming things like this and I asked if there was any nudity. They said 'no.' I thought it would be fun and interesting — and it was interesting."
Footage of Hyman as Domina Nyx Blake shows the 31-year-old whipping, slapping and punching men who are naked and bound.
Doug Anton, Hyman's attorney, told the outlet that he's confident she will be donning the blue soon enough.
"She's done nothing wrong," Anton said. " She had been an actress in scripted roles."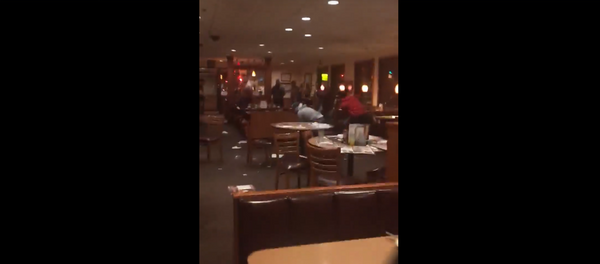 30 January 2018, 19:00 GMT
Though Hyman later described a moment when Schillari reportedly called her "disgusting," the sheriff released a statement to The Jersey Journal calling the accusation a "complete lie."
"My only words in her presence were made during the hearing when her attorneys asked me to view her videos and I expressed to them that I did not want to because they are disgusting," Schillari told the publication. "I would like to further state that I strongly support the decision by the hearing officer to terminate Ms. Hyman as a Hudson County sheriff's officer."
The Hudson County Sheriff's Department has since hired an outside firm to represent them in court. The law firm is owned by the brother of a retired undersheriff with the department, Jersey Journal reported.