Swedish police officer Peter Springare, who gained global recognition after drawing attention for nailing the extent of migrant crime to the wall in Sweden, has been reported to the police and is likely to be investigated by his own colleagues for arguing that his nation's ballooning rape problem was linked to migration, the newspaper Aftonbladet reported.
During a lecture at the People's House at Hisingen in Gothenburg in early February, Springare called gang rape a "new trend" that had emerged as a consequence of the last 12 to 15 years of immigration. In a video obtained by the Swedish channel TV4, Springare also described gang rape as a "cultural phenomenon."
"Of course, there are also ethnic Swedes engaged in gang rape, but not in the numerals of foreign-born offenders," Springare said.
Springare's tirades were reported to the Bergslagen police, and his fellow officers weren't impressed, promising an internal investigation. According to police communicator Mats Nylén, such comments could harm the public confidence in the police and could be perceived as undermining the force's public image. Nylén stressed that citizens must be able to trust that they will be treated fairly and objectively by the police.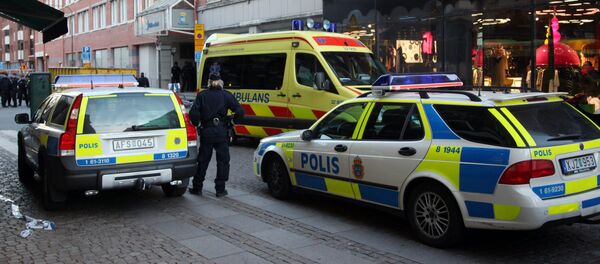 12 February 2018, 06:30 GMT
Others, however, were far more critical of Springare's remarks.
"This is remarkable. Civil servants and policymakers must have better judgment and adhere to our form of government and the values it stands for," Swedish Bar Association Secretary General Anne Ramberg said, calling the statements "borderline racist."
Springare, who became a blogger and a political activist after blowing the whistle over the extent of migrant crime in 2017, is no stranger to controversy.
Widespread accusations of racism prompted a police investigation of him "inciting racial hatred," which was later dropped. Springare himself retorted that things get very bad when you are no longer able to discuss immigrant crime without being labeled "racist."
READ MORE: Avalanche of Donations After Kickstarter Ban on Swedish 'Rape Book'
Later, Springare was once again threatened when he was accused of "hacking" his way into police computers to dig up statistics used in a column for a local newspaper.
In Sweden, Peter Springare has since risen to national fame and has a group of supporters called "I'm so damn tired" named after the phrase that started the famous rant about migrant crime that propelled him to stardom.
​The true extent of migrant crime, including rape, remains largely unknown in Sweden, as the government has deliberately refused to publish statistics on criminals' ethnicity for over a decade.
According to a 2000 report from the Crime Prevention Council (Brå), before mass-scale immigration, immigrants accounted for 42 percent of gang rapes in Sweden, TV4 reported.
READ MORE: Swede Fined for Saying Muslims Are 'Behind Many Rapes' — Reports
A private survey from October 2017 claimed men of foreign descent committed over 90 percent of rapes. The investigation was based on over 4,000 court rulings from between 2012 and 2014, before the migrant crisis of 2015, during which Sweden received about 160,000 asylum seekers.
In 2017, an average of about 20 rapes per day was reported in the Nordic country with the world's first "feminist government," bringing the annual total to 7,230, according to Expressen daily.
No point in trying to list all the rapes in Sweden Nick,

There is an avg of 19 rapes per day in Sweden.

1 in 8 Swedish women will be raped during her lifetime with current statistics. https://t.co/Xz83QGj7tf

— PeterSweden (@PeterSweden7) February 14, 2018​