One of the most prominent issues on the agenda is Turkey's ongoing Operation Olive Branch against Kurdish YPG groups in Syria's Afrin.
Meanwhile, according to the Turkish media, just a day before the projected visit, the Turkish Youth Union launched an online anti-Tillerson flashmob under the hashtag #TillersonDefol, literally translated into English as "Get out of Here, Tillerson. It went viral overnight and entered the list of Turkey's top hashtags.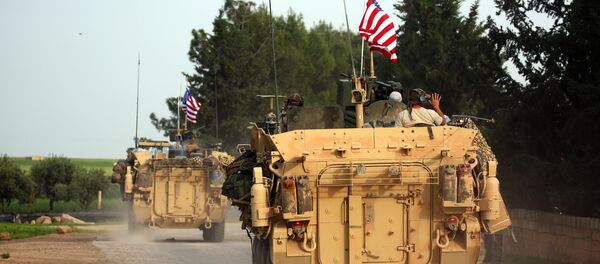 15 February 2018, 11:06 GMT
The post published on the Youth Union's account,  under the aforementioned hashtag, reads as follows:
"The heart of the Turkish Youth Union beats in unison with our soldiers who are eliminating the evil forces of USA-KWP [Kurdistan Workers' Party, deemed as terrorist in Turkey] in Afrin. Our soldiers' murderers do not belong in Turkey! #TillersonDefol"
Türk Gençliğinin kalbi Afrin'de ABD'nin kara gücü PKK'yı ezen Mehmetçikle birlikte çarpıyor. Mehmetçiğin katillerinin Türkiye'de işi yok!#TillersonDefol

— TGB (@genclikbirligi) 14 февраля 2018 г.
"The epoch of the unipolar world is over. Americans, the chief global terrorists, will fail to carve up the Mideast territory in line with their own goals! #TillersonDefol"
Tek kutuplu dünya devri artık bitti. Dünyanın en büyük teröristi ABD, Ortadoğu'ya kafasına göre şekillendirmeyecek!#TillersonDefol

— İbrahim Okan Özkan (@okanozkan_94) 14 февраля 2018 г.
Most notably, the official visits of US National Security Advisor Herbert McMaster and US Secretary of State Rex Tillerson to Turkey, slated for this week, are hoped to facilitate the dialogue with Washington, Erdogan's spokesman said Wednesday.
READ MORE: US Remains the Main Agent of Chaos in Syria — Geopolitical Analyst
Since January 20, Turkey has been conducting Operation Olive Branch in Syria's Afrin, which is commanded by the Syrian Democratic Forces-affiliated and US-backed Kurdish People's Protection Units (YPG). Ankara has labelled the YPG as a terrorist group and considers it related to the Kurdistan Workers' Party (PKK), which has been waging warfare in Turkey in an attempt to win Kurdish autonomy.
READ MORE: Turkey Renames Street With US Embassy in Ankara — Reports
PKK is listed as a terrorist organization by both, the US and Turkey, but the US distinguishes between the PKK group and Syrian Kurds at large. For instance, the US supports the YPG units, which are fighting the Daesh terror group in Syria, whereas, Ankara has repeatedly expressed hope that Washington will stop supplying Syria's Kurds with weapons.
READ MORE: We Don't Want to Split Syria — Kurdish YPG Spokesman
Turkey-US relations started turning sour in the wake of the failed July 2016 Turkish coup, which President Erdogan blamed on US-based preacher Fethullah Gulen, who was openly supported by Washington at the time.
On top of that, the US' refusal to extradite Gulen fueled Ankara's suspicions that the US was partaking in, or even masterminding the plot.