The announcement comes after the FBI admitted on Friday that a person close to Cruz contacted the agency's Public Access Line to report their concerns of the 19-year-old's "gun ownership, desire to kill people, erratic behavior and disturbing social media posts."
"The FBI's failure to take action against this killer is unacceptable," Scott said in a statement. "The FBI has admitted that they were contacted last month by a person who called to inform them of Cruz's 'desire to kill people' and 'the potential of him conducting a school shooting.'"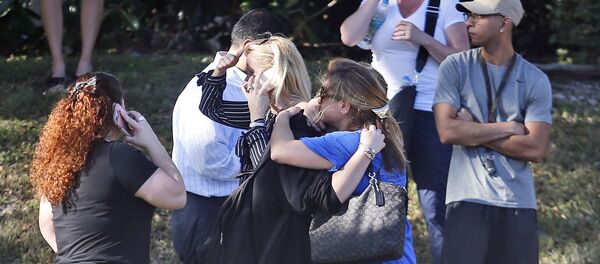 15 February 2018, 21:31 GMT
"We constantly promote 'see something, say something' and a courageous person did just that to the FBI. And the FBI failed to act," he added.
Though the tip was marked as a "potential threat to life" and later handed to the FBI's Miami office to be investigated, that never happened.
Wray later released a statement indicating that the mishap is being investigated.
"I am committed to getting to the bottom of what happened in this particular matter, as well as reviewing our processes for responding to information that we receive from the public," Wray said. "It's up to all Americans to be vigilant and when members of the public contact us with concerns, we must act properly and quickly."
Attorney General Jeff Sessions has responded to the matter by ordering a review of both the FBI and the US Justice Department's procedures in investigating tips. 
Cruz killed 17 people and injured 14 others after walking into Florida's Marjory Stoneman Douglas High School on Wednesday. He was a student at the high school until he was expelled for "disciplinary reasons."