Reports about alleged chemical attack in Syria's northern district of Afrin, where Ankara is carrying out its Operation Olive Branch against Kurdish militants, are nothing but groundless accusations, the Turkish Embassy in Moscow said in a statement obtained by Sputnik on Sunday.
READ MORE: Damascus to Deploy Forces in Afrin — Reports
"The claims that have been made by SANA, the mouthpiece of the Assad regime, and some terrorists pretending to be journalists are groundless accusations and part of black propaganda," the statement read.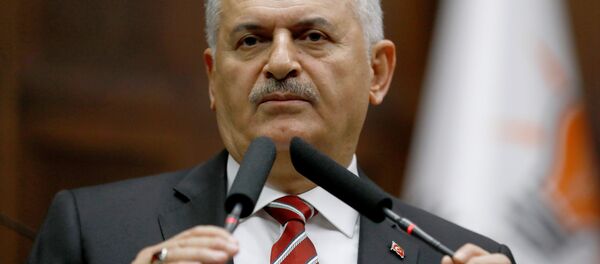 17 February 2018, 14:55 GMT
"Turkey has already denied these false statements. In addition, the coalition forces yesterday stated that there is no proof indicating the use of chemical weapons by the Turkish Armed Forces," the Turkish Embassy explained.
Reports about six civilians, hospitalized after alleged Turkish chemical weapon attack in the Northern Syrian city of Afrin, surfaced amid Ankara's ongoing operation in the Syrian enclave of Afrin.
The US government has expressed skepticism over claimes that Turkey used chemical weapons, whereas the US-led anti-Daesh coalition said it was not aware of any confirmed reports of the alleged Turkish gas attack.
READ MORE: SDF Claims Syrian Kurds Attacked Military Camp on Turkish Territory
Turkey launched the operation on January 20 in Afrin, which is controlled by the US-backed Kurdish People's Protection Units (YPG). Ankara considers the YPG to be affiliated with the Kurdistan Workers' Party (PKK), which it had designated as a terrorist organization. Damascus has strongly condemned Ankara's actions, with the Syrian Foreign Ministry calling them a violation of the country's sovereignty.