"Last night at 02.30 [00.30 GMT], the Israeli Defense Ministry together with the US Department of Defense conducted a successful test of the Hetz 3 anti-missile system designed to intercept ballistic missiles above the atmosphere," the ministry said.
The Hetz 3 has successfully fulfilled its task, the ministry noted. The launch was held in the central part of Israel under the leadership of Israel Aerospace Industries and Israeli Air Force.
READ MORE: Tel Aviv Registers Alleged Rocket Launch From Gaza Targeting Southern Israel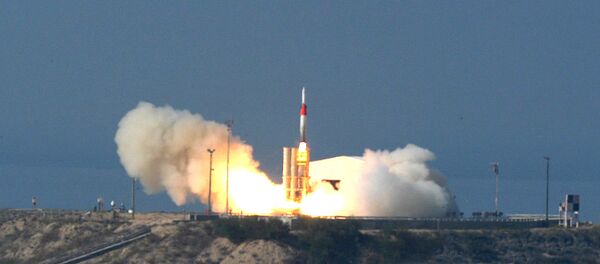 10 January 2018, 20:03 GMT
The Hetz 3 is a system that intercepts ballistic missiles during the space-flight portion of their trajectory, including intercontinental ballistic missiles (ICBMs) carrying nuclear, chemical, biological or conventional warheads. The reported flight range of the Hetz 3 missile is up to 1,500 miles and may be used as an anti-satellite weapon.