Seven members of Netanyahu's closest cabal were arrested Sunday in the deepening 'Case 4000' corruption probe into Netanyahu and his innermost circle of cronies.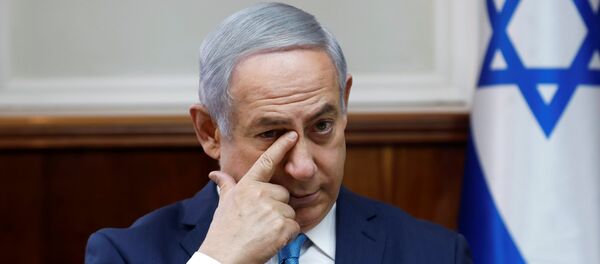 16 February 2018, 06:46 GMT
The most recent arrests follow what investigators say were interventions by the suspects with telecommunications regulators in the country to fastrack permissions for communications giant Bezeq in exchange for a media reputation whitewash of Netanyahu and his wife, Sara.
Case 4000 has not yet directly named Netanyahu as a suspect although several news outlets have reported that he will be questioned by investigators 'under caution,' a phrase used to describe defendants in criminal cases, according to the Los Angeles Times.
The seven Netanyahu associates arrested have not yet been named, although prior to the imposition of a quickly-leveraged gag order surrounding the investigation, Haaretz was reporting that they included Netanyahu close friend Nir Hefetz, a former communications director for the Israeli prime minister, and associate Shlomo Filber, a former Communications Ministry director general.
On Tuesday February 15, investigators unveiled recommendations to the attorney general that Netanyahu be charged with fraud, breach of trust and bribery in two cases not related to Case 4000. Both of the additional cases accuse the Israeli prime minister of using his influence and power to provide favorable deals to those close to him.
Netanyahu, in Germany over the weekend at the annual Munich Security Conference, appeared unconcerned about the mounting evidence that threatens to remove him from office, stating only his opinion that the deepening investigations are a "contrived bubble that will burst."
The recommendation by Israeli police to charge Netanyahu is the result of a year's worth of work. The findings were presented to Israeli Attorney General Avichai Mandelblit on Tuesday, who has the final say on whether the prime minister will be indicted.
Meir Sheetrit, a former minister with Likud, Netanyahu's political party, stated that the prime minister will "keep on acting as if everything is normal as long as he can," cited by Latimes.
"But we know what direction this is going in: political defeat," Sheetrit asserted, adding that Netanyahu's dismissal of the evidence "is untenable in the long term."
"Netanyahu and the Likud are disconnected from the people, floating along in a world in which their corruption doesn't matter," he said.