On February 21, Venezuela formally launched el petro, becoming the first country with its own oil-backed cryptocurrency.
"We already saw the intentions to buy el petro worth 4.77 billion yuan, which equals 596 million euros, or $735 million," Maduro said during the currency's presentation, broadcast live on social networks.
It is expected that a total of 100 million petros will go on sale, with an initial value set at $60, given the price of a barrel of Venezuelan crude oil as of mid-January.
'Taking on Superman'
Venezuela's economy has been mired in a deep economic crisis, and as it struggles with hyperinflation and record low value of the bolivar currency, the President is pinning his hopes on the new cryptocurrency, assuming it will allow the country to skirt US sanctions preventing Venezuela from issuing new debt.
"The Petro reinforces our independence and economic sovereignty and will allow us to fight the greed of foreign powers that try to suffocate Venezuelan families to seize our oil," he said.
Using the comic character as a code for the United States, Maduro has hinted that petro could bypass the US financial system, saying, "today, a cryptocurrency is being born that can take on Superman."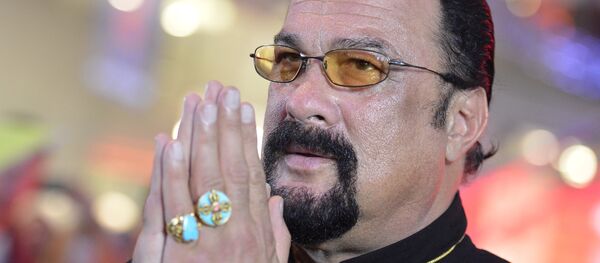 21 February 2018, 03:49 GMT
Maduro solemnly announced that he had put the country on the world's technological forefront, albeit blockchain experts had warned that the petro was unlikely to draw significant investment due to its deep economic imbalances that will imminently undermine confidence in the new digital currency.
"We have taken a giant step into the 21st Century. We are on the world's technological vanguard," Maduro said in a nationally broadcast show.
Oil Trade
Speaking about the much-anticipated investments, Maduro did not give any details, however, the official website for the petro contains a guide on how to set up a virtual wallet to hold the cryptocurrency.
Meanwhile, he noted that starting from today el petro will become a means of payment on the border with Colombia and ordered all consular services in  Venezuelan embassies worldwide to register in el petro as well as to approve the proposal made by the Venezuelan Airways Association to purchase fuel for aircraft in this cryptocurrency. Maduro also ordered the state-owned oil company PDVSA, petrochemical enterprise Petroquimica de Venezuela (Pequiven) and the CVG Corporation to conduct part of their sales using el petro. In the future, the president added, tourism some gasoline sales and oil transactions could also be made in el petro.
READ MORE: Venezuela Launches Oil-Backed 'Petro' Cryptocurrency Amid US Sanctions
In December, Maduro announced the idea of creating a cryptocurrency system, called Petro and backed by the country's oil reserves, which is expected to help the country to overcome the financial blockade. The Venezuelan Finance Ministry noted that cryptocurrency was necessary for carrying out financial transactions and searching for new financing options.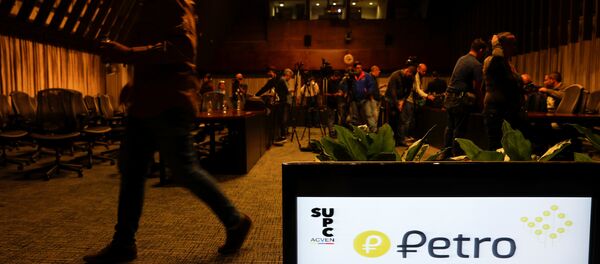 2 February 2018, 14:01 GMT
Venezuela has been struggling to restructure its external debt, estimated at some $150 billion by some experts, with Maduro saying that his government became the victim of an "economic war" led by opposition politicians with the help of the US President Donald Trump's administration.
The US Treasury Department, for its part, has warned US citizens and companies that purchasing el petro would mean violating sanctions, with US Secretary of State Rex Tillerson saying that Washington was weighing sanctions on Venezuela's oil sector to increase pressure on the country's authorities and make them "return to a constitutional process."
READ MORE: Maduro Invites Other Latin American States to Join New Cryptocurrency, the Petro
Sanctions imposed last year by Washington block American banks and investors from acquiring newly issued Venezuelan debt, curbing the nation from borrowing abroad to bring in new hard currency or refinance existing debt.