"And he shall rule them with a rod of iron; as the vessels of a potter shall they be broken to shivers: even as I received of my Father," reads Revelation 2:27 in the King James Version of the Bible. It seems like the pretty standard end-of-days type liturgy you might expect from the Holy Book's final chapter, but to Sanctuary Church and Rod of Iron Ministries' Tim Elder, "This rod of iron is the AR-15, in today's terms."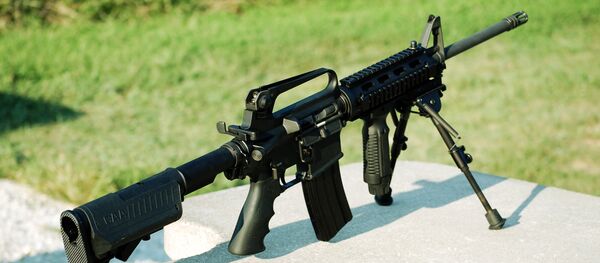 Raw Story notes that other translations of this verse refer to an iron scepter instead of rod.
The Dreher Township church's website directs couples coming to a commitment ceremony in nearby the nearby town of Newfoundland to bring an AR-15 "or equivalents such as an AK semi-automatic rifle, representing both the intent and the ability to defend one's family, community…" according to the NY Post, citing AP.
Elder told AP the weapons will not be loaded and will be checked at the door and secured with zip ties.
Sanctuary Church and Rod of Iron Ministries is an offshoot of the Unification Church, founded by the late Sun Myung Moon. Today it is run by his son, Rev. Sean Moon. The Moon family also owns Kahr Arms, which moved its firearms factory to nearby Blooming Grove in 2015, according to Raw Story. The Kahr factory builds the infamous "Tommy" gun, the favorite of World War II American soldiers and Prohibition-era Chicago gangsters alike. We wonder which of the apostles is packing that kind of heat.
Brushing aside concerns about school safety, with the ceremony taking place only a half-mile from a nearby elementary school, Elder simply noted, "Now more than ever, good people need to stand up and claim for themselves the tools that can be used to stop that kind of evil."