According to the YPG spokesman, hundreds of Syrian militiamen have been deployed on the frontlines in Afrin. However, he told Reuters that it is not enough to stop the Turkish "assault" and called on Damascus to help fight Ankara and "fulfill its duty… to protect Syria's border."
He emphasized that no Syrian army soldiers or institutions had entered Afrin.
Following Lebanese Mayadeen broadcaster's reports about over 400 Syrian fighters allegedly deployed to Afrin to fend off Ankara's forces, Turkish presidential spokesman Kalin denounced opposition to the military campaign in Afrin, saying that Ankara was acting in its national interests and "owed no explanation."
"Every step taken in support for the YPG terror organization would mean (any forces intervening on the Kurdish militants' side) are on the same level as terror organizations. And for us, that would make them legitimate targets," said Kalin, adding, "It doesn't matter who makes such an attempt, there will be serious consequences."
Commenting on the situation, Turkish Deputy Prime Minister Bekir Bozdag said that the YPG could not agree with Damascus on the deployment of Syrian government army to Afrin.
"YPG was in talks with the regime on the issue of Afrin and they could not agree. I reiterate that whoever supports YPG in Afrin will become our target," he said as quoted by the Milliyet newspaper.
According to the Turkish General Staff, a total of 1,780 YPG fighters have been eliminated since January 20 when the operation was launched.
On February 20, the SANA news agency reported that Syrian government popular forced had arrived in Afrin to repel the Turkish military offensive in the city and fight the Daesh terrorist group despite President Recep Tayyip Erdogan's warning against supporting the Kurds. Media outlets proceeded to say that the Syrian convoy had to retreat following shelling from Turkish forces.
READ MORE: Claims of Syrian Army Deployment in Afrin Are 'Black Propaganda' — Erdogan's Rep
Later, a YPG representative in Afrin Brusk Haseke dismissed the information as misleading.
"While approaching Afrin, they were attacked by Turkish artillery, which resulted in the death of two fighters and three being wounded. Despite this, they arrived in Afrin and joined detachments of the YPG. At present, the fighting is ongoing at the front in Afrin. The fighters arrived in the city with heavy weapons and armored vehicles and, together with YPG squads, confronted the aggressors. Today there were no dead or wounded among the militiamen," he stressed.
Previously, Kalin had called Syrian forces' attempt to enter Afrin to support YPG absolutely unacceptable.
"There have been reports that YPG and the [Syrian President Bashar] Assad regime reached an agreement. We approached the reports with caution. Yesterday, we have witnessed an attempt of 40-50 vehicles coming from Aleppo to enter Afrin. [The attempt] was foiled with the help of artillery," Kalin said, as quoted by the Haberturk media outlet.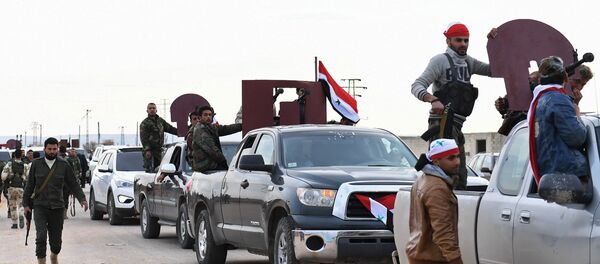 21 February 2018, 07:04 GMT
Meanwhile, the official representative of the Kurdish militia told Sputnik that the Turkish operation has been "unsuccessful," confirming that Syrian popular forces were already in Afrin.
"The [Turkish] president, the government and the Turkish media made statements with a confessional implication, stating that these forces are Shiite. We in Syria are proud of our confessional and national diversity. We have been rebuffing Turkish aggression for 32 days, which in military terms has been unsuccessful. They may have advanced to a number of positions, but in general the military campaign has been unsuccessful," he added.
On January 20 Turkey launched its military operation, codenamed "Olive Branch," against the Kurdish forces in Syria's Afrin, an area controlled by the US-backed Kurdish People's Protection Units (YPG), training a 30,000-strong border security force on the territory of Syria controlled by the Syrian Democratic Forces, an alliance dominated by the YPG allegedly associated with the PKK, banned in Turkey.
READ MORE: WATCH: Alleged Video of Syrian Government Forces Entering Afrin
Ankara threatened to kick off a military campaign in response to the United States' decision to start training a 30,000-strong border security force on the territory of Syria controlled by the Syrian Democratic Forces, an alliance dominated by the YPG allegedly associated with the PKK, banned in Turkey.