"The generals would love to do it, I tell you, and so would I," Trump gushed.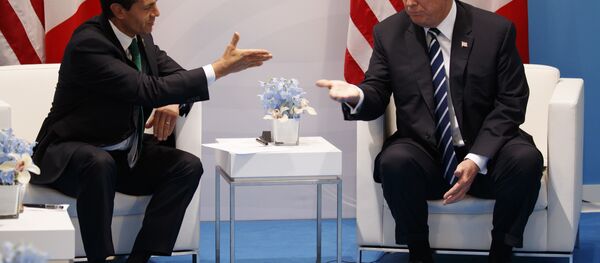 25 February 2018, 20:02 GMT
"I think it's great for the country being a cheerleader and the spirit," the often grammatically challenged US president asserted.
Earlier this year, Trump reportedly told Pentagon officials to plan a full-scale military parade, with all the trimmings, including phalanxes of motorized weapons passing up and down Pennsylvania Avenue in Washington DC. During early planning stages for the pageant, many lawmakers expressed disapproval.
According to a Military Times poll, 89 percent of their readers, who primarily consist of service members and their families, said that the parade would be a "waste of money."
Officials in several branches of government, including the Pentagon, have expressed concern over the logistical details of the event, including where the money would come from and whether the city streets of the nation's capital can support the weight of tanks. The White House budget director suggested that the parade could cost up to $30 million, a figure many believe to be low.
"We'll see if we can do it at a reasonable cost," Trump promised on Saturday.
Trump has consistently expressed his desire for a parade during the first year of his presidency, particularly after he attended a Bastille Day demonstration in Paris.
The Bastille Day Military Parade, celebrating the beginning of the French Revolution when Parisians stormed the Bastille fortress, has been held on July 14th every year since 1880 and is a popular event in France.
But on Capitol Hill, Democratic and Republican lawmakers note that a military demonstration makes the US appear 'totalitarian,' as reported by The Hill, especially as North Korea and Russia — to name just two nations — frequently conduct large-scale military parades as a means to drum up political support.
"It would be a great representative parade," the president raved during his interview, adding, "It would be great for the spirit of the country."
Nothing could stop the flow of sentiment during the Saturday phone call as Trump enthused, "We have a great country. And we should be celebrating our country."