Authorities in Atlanta, Georgia, have announced a $10,000 reward for Timothy J. Cunningham, aged 35, who was not long ago promoted to commander at the Atlanta Centers for Disease Control and Prevention (CDC), US media write.
The last time Cunningham, a Harvard graduate, showed up for work was February 12. He had previously been deployed for health emergencies such as outbreaks of Ebola or Zika virus. He reportedly left around midday on the 12th, saying he wasn't feeling well. That was perhaps the last time anybody saw him at all.
Statement from @CDCgov Atlanta on disappearance of Dr. Timothy Cunningham: Dr. Cunningham's colleagues and friends at CDC hope that he is safe. We want him to return to his loved ones and his work—doing what he does best as a CDC disease detective—protecting people's health. pic.twitter.com/WjeCDvjobG

— Lauren Pozen WSB (@LaurenPozenWSB) 26 февраля 2018 г.
READ MORE: Racist Fight at Florida Restaurant Caught on Camera (VIDEO)
 "He sounded not like himself," recollected Cunningham's younger sister, who had talked to him over the phone before he went missing.
They ended the conversation the way they always do: "Love you. I'll talk to you later."
UPDATE: @StopCrimeATL is partnering with the family of Timothy Cunningham in offering a $10,000 reward for info leading to an arrest & indictment in Cunningham's missing persons case. There is no evidence of foul play but we explore every possibility. Call 404-577-TIPS with info. pic.twitter.com/LyUcGCj5MU

— Atlanta Police Dept (@Atlanta_Police) 26 февраля 2018 г.
When she texted her brother later, she didn't get a response. Neither did her mother, who tried to contact him that afternoon.
"That was really weird," Cunningham's sister said, adding that she was"devastated" by her brother's disappearance.
Cunningham's mother and sister live in a different state. When they failed to contact their son and brother, they asked relatives to visit Cunningham's house. Relatives found the house and the garage locked, with two windows standing open.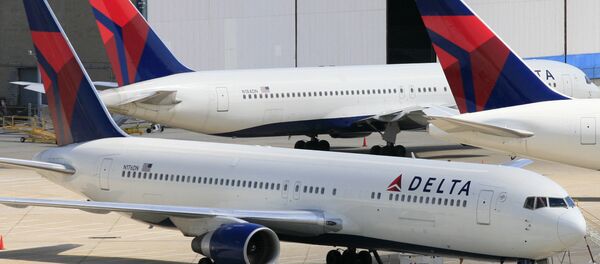 22 February 2018, 00:30 GMT
The police are investigating the disappearance.
"As of today we have been unable to locate Mr. Cunningham and we are seeking the assistance of the public with this case," Officer Donald T. Hannah of the Atlanta Police Department commented on Saturday, adding there was no evidence of foul play.