According to Kommersant, the planes were due to be deployed to Syria on the eve of Russia's Defender of the Fatherland Day, which is celebrated on February 23.
Su-57
© Sputnik / Maksim Blinov
/
Another goal of the deployment is to promote the capabilities of Russia's military-industrial complex by showcasing Russian military activity in Syria.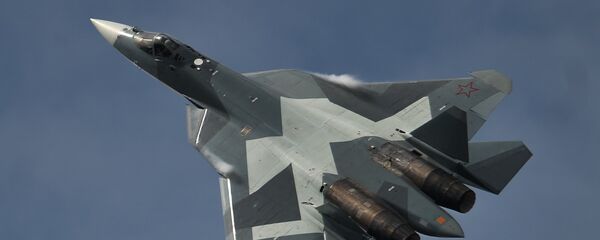 On Sunday,
Sputnik Arabic
reported the arrival of two more Su-57 fighter jets at Syria's
Hmeymim Airbase
, referring to the photos of the aircraft on Wael Al Hussaini's Twitter page.
Earlier last week, Al Hussaini posted the photos of the first two Su-57 arriving at Hmeymim. The Russian Defense Ministry has yet to confirm the information.
Formerly known as Prospective Airborne Complex of Frontline Aviation (PAK-FA), or Sukhoi T-50, the Su-57 is equipped with state-of-the-art avionics and an active airborne phased array radar which allows the plane to effectively destroy air, ground and naval targets.