Turkey's statement comes in the wake of the UN Security Council resolution on the cessation of hostilities in Syria, which was prompted by the deteriorating humanitarian situation in the Damascus suburb of Eastern Ghouta. On February 18, the Syrian army launched an offensive in the region in order to eradicate the terrorist groups that remain there. The leaders of the extremist organizations which include Jabhat al-Nusra, Jaysh al-Islam, Failak al-Rahman groups, prevent civilians from leaving the battle zones and thus provoke Syrian troops to launch retaliatory operations, according to the Russian military.
Turkish President Recep Tayyip Erdogan said than a UN Security Council resolution on Syria ceasefire was not being implemented, adding that Turkey would continue dialogue with Russia and Iran on the issue.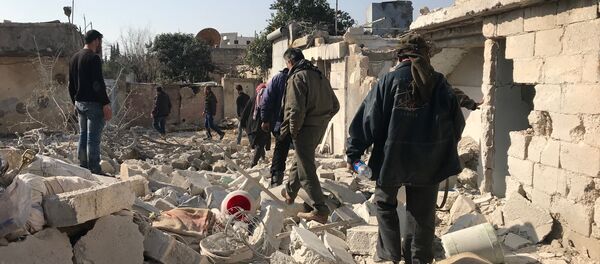 26 February 2018, 06:46 GMT
Meanwhile, since January 20, Ankara has been conducting its anti-terrorist operation in Syria's northern Kurdish enclave of Afrin.
According to the Turkish deputy prime minister
, the Syrian ceasefire regime, anchored in the UN resolution, will not affect Ankara's offensive, as the resolution doesn't cover military efforts against terrorist groups like Daesh, al-Qaeda, and the Nusra Front.
On February 25, Russian President Vladimir Putin during a phone conversation with his German and French counterparts, Merkel and Macron, stressed that the cessation of military activity in Syria would not apply to the operations against terrorist groups. This position was also echoed by Iran, who supported the provision of the resolution, which says that the truce in Syria does not cover terrorists in Eastern Ghouta, adding that militants would continue to be targeted by the Syrian army.
READ MORE: Ankara and Damascus Must Resume Talks — Turkish Lawmaker
Turkey began its Olive Branch Operation in Afrin in the wake of the US announcement that a new border force largely dominated by the People's Protection Units (YPG), which Turkey considers to be terrorists, would be formed by Washington. Damascus strongly condemned Turkey's actions in Afrin, stressing the importance of the country's territorial integrity and sovereignty.