New Delhi (Sputnik) — India's indigenous light combat aircraft (LCA) Tejas has successfully completed a hot refueling trial on Monday in what could help the manufacturers nail the confidence of the main buyer — the Indian Air Force (IAF). State-owned Hindustan Aeronautics Limited (HAL), which is credited with locally developing as well as manufacturing the LCA, has claimed the trial was satisfactory and brings the aircraft closer to final operational clearance.
READ MORE: India Launches $8 Billion Program to Make Its Own Fighter Jet
"In the history of IAF aircraft, LCA will be the first aircraft to fly with this unique capability of hot refueling and HAL has successfully demonstrated this on LCA Tejas LSP8 aircraft," HAL said in a statement on Tuesday.
Inching close to Final Operational Clearance (FOC), HAL carried out a hot refueling on indigenous Light Combat Aircraft-Tejas followed by a sortie at HAL airport, Bengaluru. pic.twitter.com/qBPT465e2L

— HAL (@HALHQBLR) February 27, 2018
"The system performance during the refueling session was in-line with design requirements and was satisfactory," it added.
Hot refueling is a single point pressure refueling of the aircraft, by which a fighter aircraft is refueled (between sorties) while its engine is in operation, thereby reducing both the refueling time by half and turn-around time significantly.
"This capability is highly desired in combat situation which basically puts aside the need for the pilot to park the aircraft, power down and exit the cockpit for refueling to begin. Further, with this, a major requirement of LCA Air Force Mk.1A has been achieved," HAL said.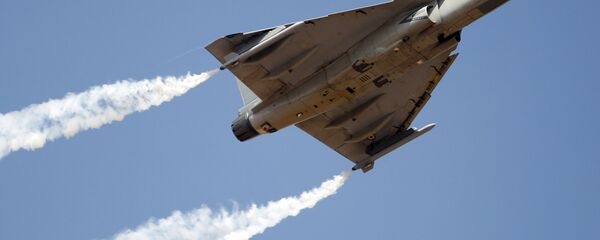 2 October 2016, 18:20 GMT
The Indian Air Force has ordered 20 initial operational configuration aircraft and 20 final operational configuration aircraft. Out of total 20 IOC aircraft (16 fighters and 4 trainers), 5 fighters have been delivered by HAL to the IAF to date. Besides the 40 aircraft, India's Defence Acquisitions Council (DAC) has also cleared the acquisition of 83 LCA MK 1A for IAF production, which is planned for 2019-2020, after the completion of FOC contract.
HAL aims to manufacture 16 aircraft per year, up from the present capacity of eight. For this purpose, HAL is currently in the process of establishing a second manufacturing line to support structural and equipping activities.