"Brothers of Italy has always called for lifting of the infamous political and economic sanctions against Russia, which are absolutely unjust and harmful for our companies. When we are in government, we will request the revision of all international treaties. As a member of Parliament, I will continue to fight for Italy leaving the eurozone and NATO in favor of a natural and a strategic Eurasian alliance (political, economic, energy and military) with Russia," Lavarini said.
Politicians and business leaders in a number of EU countries, including Italy, have been increasingly vocal in their appeals to improve their relations with Russia that deteriorated following the outbreak of the Ukrainian crisis. In May, Italian Prime Minister Paolo Gentiloni praised the state of Russian-Italian relations, saying that the ties have proven to be "extremely successful."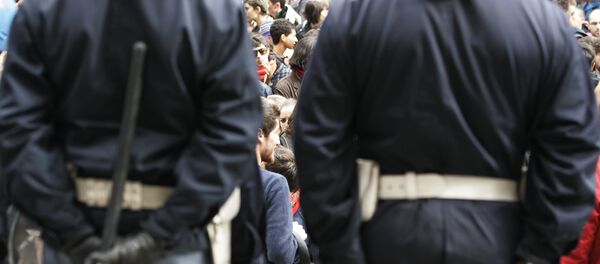 23 February 2018, 16:22 GMT
Speaking further, Lavarini said that he had little confidence in his country's electoral regulations, adding that only the center-right coalition, which included his party, could prevent chaos in Italy.
"We have very bad electoral rules, which do not allow us to choose members and do not guarantee the political stability. For this reason, it is essential for the center-right coalition to obtain more than 40 percent of the votes or it will be chaos sought by global finance speculators and the globalist plutocracy. If the center-right will not get the majority, it's better to change the electoral law and get back to voting right away," Lavarini said.
The candidate stressed that Italian media were trying to shift public attention from crucial issues, such as security and illegal migration, to a more abstract political agenda during the election campaign.
"The mass media, being in the hands of the system, tried to distract and deceive Italians, talking about lingering uncertainty and the danger of fascism. But the only real danger is African and Muslim migrants' invasion, the end of our Latin, Christian civilization," Lavarini added.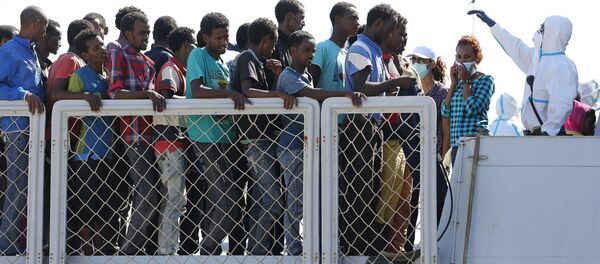 21 February 2018, 15:30 GMT
Another two major political blocs, the governing Democratic Party and the Eurosceptic Five Star Movement, are also fighting for control of the government. The Termometropolitico poll showed that neither party was a clear front-runner; the Five Star Movement is expected to come in second with 29.4 percent of the vote, while the center-left coalition made up of the Democratic Party, Together party, the Popular Civic List and Europa con Emma Bonino parties will likely get 27.4 percent of the vote.
READ MORE: Italian Comedy Depicts Returned Mussolini As Elections Near
Italy's parliamentary election is on Sunday. According to Italian law, a party or coalition will be unable to form a government if it does not surpass the 40-percent threshold in the general election. A February 16 opinion poll by the Termometropolitico pollster showed that the coalition, comprised of the Brothers of Italy, Forza Italia and Northern League parties might emerge as the leader with almost 35 percent of the vote.