Sputnik discussed the growing number of anti-Semitic incidents with James Hawdon, Professor of Sociology and Director of the Center for Peace Studies and Violence Prevention at Virginia Tech.
Sputnik: What is the main reason for this growing anti-Semitism in the United States?
James Hawdon: I wouldn't necessarily say anti-Semitism is growing, it's always been there, unfortunately, anti-Semitism is part of European culture, American culture, I do think it has become more brazen in the last couple of years, and I think a big part of that is due to the perception by the far-right groups that, you know, there's a culture war in America, there always has been, between inclusivity and exclusivity, and I think there has been the perception that the inclusive groups, the pluralistic groups, the tolerant groups have won the culture war over the last 30 years, even 60 years, and I think there's good evidence to support that, but I think the far-right groups saw an opportunity recently to restate their claim for a more exclusive United States.
READ MORE: 'We've Seen So Much Intolerance': Anti-Semitic Incidents in US Spiked in 2017
Sputnik: Would you agree with the opinion that President Trump's views and actions in a certain way to a degree emboldened these attacks?
James Hawdon: I believe that some of the rhetoric of his campaign did, he ran with a nativist platform and I think it did embolden these groups.
Sputnik: There's generally a lot of talk now about resurgence of far-right movements, what far-right groups could be behind these actions that we're looking at, the more recent ones? How widespread is the far-right movement in the US currently?
James Hawdon: Well, there are a number of far-right groups, the most famous of course is the Ku Klux Klan, the National Socialist movement is a neo-nazi group, there's a whole list of these groups, but the extent to which they hold sway over the American populace is relatively week. If you look at data on peoples' attitudes and expressed anti-Semitism, roughly about 10% of the American public hold these views, and even fewer hold extreme anti-Semitic views.
For example, we have collected data for the last 6 years on online extremism, and when we look at the number of views who have been exposed to hate messages, many of these targeting religious groups, including Jews, we did see a spike in that in 2016-2017, but this year the data we've just collected it shows that it's gone down after a five year increase, and when we ask people about the extent to which they agree with the opinions that they saw, only about 5% say that they agree with those extremist views. So I think these groups have become more visible and have become emboldened, and are acting more aggressively, but I don't necessarily think that they're having tremendous success in winning peoples' hearts and minds.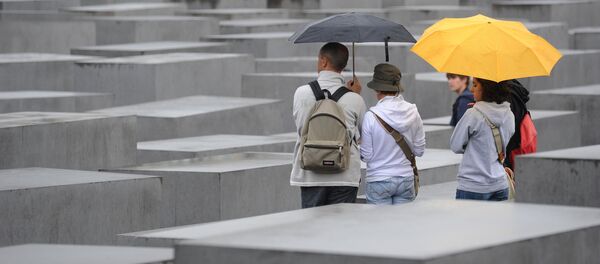 12 February 2018, 18:34 GMT
Sputnik: How likely is the number of anti-Semitic attacks and incidents in the US  to grow in the months ahead? And do you think that it will have certain consequences, perhaps, long-lasting consequences for American society?
James Hawdon: I hope that like with our data that shows that extremist messaging has peaked last year, hopefully, we have seen a peak in the anti-Semitic hate crimes. My guess is that it's not quite the peak, that it will stay relatively high for the next year of so before it decreases. In terms of consequences, yes, there are obviously, as the culture war plays out there are consequences, and as we see an increase in exclusionary types of rhetoric and exclusionary types of policy, that does have rippling effects that can take years to work through the system, and many of the gains that the groups have made, various groups including religious minorities, ethnic minorities, racial minorities, many of the gains that they have made, these are not guaranteed gains, there can be backsliding and I think we have reached the point where that backsliding, there's a danger of that.
The views and opinions expressed by James Hawdon are those of the speaker and do not necessarily reflect those of Sputnik.