Community leaders in Primasens, a small economically depressed town in Germany's western state of Rhineland-Palatinate, have been complaining for months that their town's economic situation is too difficult to spend on integrating asylum-seekers.
Refugees were sent to Pirmasens because the town had a large number of empty apartments, due among other things, to its dire economic situation.
This, in turn, made it almost impossible for the town authorities to provide the approximately 1,300 refugees with the services they needed.
"We are ready to provide short-term help to Pirmasens, as the town is in a special situation," state Integration Minister Anne Spiegel said after meeting with town representatives.
Mayor Berhard Mathies welcomed the move, thanking the state government "for giving us a breather."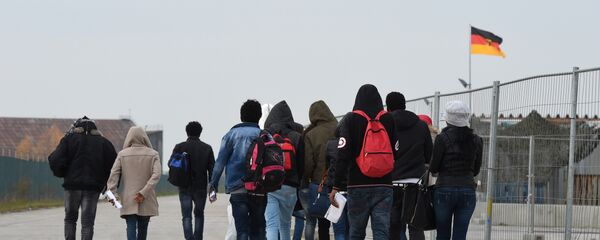 7 January 2018, 17:56 GMT
Several equally troubled towns across Germany have successfully appealed to have the inflow of refugees stopped.
About 1.5 million refugees have arrived in Germany since 2015, prompting local authorities to allocate huge sums for migration-related issues.
The influx of migrants to Germany came as a result of German Chancellor Angela Merkel's open door policy towards migrants fleeing devastating wars and military conflicts in their home countries in the Middle East and North Africa.
READ MORE: Less Benefits, More Check-Ups: Germany's CSU Demands Tougher Stance on Refugees