Syrian government forces have repelled three attacks carried out by militants during a humanitarian pause in Eastern Ghouta, spokesman for Russian center for Syrian reconciliation Maj. Gen. Vladimir Zolotukhin said Thursday.
Despite the fact that the situation in Eastern Ghouta continues to be tense, today at 09:00 a.m. the third 'humanitarian pause' has begun. During the pause, from 10:10 to 11:30, militants of illegal armed groups attempted to attack the humanitarian corridor of Muhayam-al-Wafedin three times from Eastern Ghouta … All attacks were successfully repelled by government forces," Zolotukhin told reporters.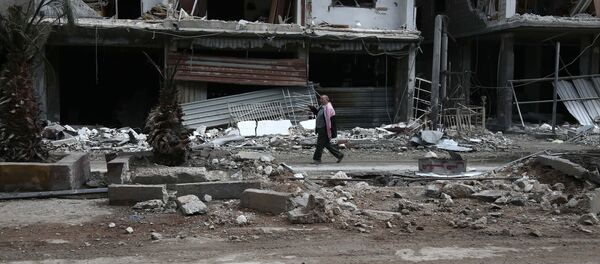 According to the spokesman, Muhayam-al-Wafedin crossing, the reception center, infirmary and food pantry are under control of the Russian military from the reconciliation center and were ready to accept civilians, including wounded and sick. But the evacuation of civilians from Eastern Ghouta has not taken place so far, the official admitted.
"The humanitarian operation is disrupted by illegal armed groups. Militants still do not observe the ceasefire and do not allow the civilian population to leave the dangerous area," Zolotukhin said.
The spokesman explained that militants were not letting civilians leave Eastern Ghouta, forcing them to stay at homes with threats.
On Militants Killing Civilians
Terrorists shot dead four civilians during a protest rally in the town of Douma in the eastern suburb of Damascus, one of the largest strongholds of militants, after which desperate people killed three militants.
"The reality of these threats [militants ban people from passing through humanitarian corridors] is confirmed by yesterday's shelling of about 300 protesting local residents in Douma. According to updated information, four people were killed at that spontaneous protest," Zolotukhin said.
In the ensuing clashes of a crowd of protesters with militants, "desperate local residents killed three gunmen," he said.
READ MORE: E Ghouta Residents Asking Rights Groups For Evacuation Help — Russian Military
On Wednesday, Russian President Vladimir Putin said during talks with Austrian Chancellor Sebastian Kurz that terrorists in Eastern Ghouta shelled Damascus around 50-80 times a day, including the region of Russia's embassy and pointed out that Russia would not tolerate this forever.
Last week, the UNSC unanimously approved resolution 2401, which provides for the introduction of a ceasefire regime throughout Syria for a period of 30 days.
The decision on the resolution came nearly two weeks after the escalation of the situation in Eastern Ghouta, following the launch of a military operation by the Syrian government forces, in a bid to clear the region of militants.