"These weapons that have been discussed [by Russia] have been in development a very long time. Our Nuclear Posture Review takes all of this into account," White told reporters.
Meanwhile. US Undersecretary of Defense for Policy John Rood said on Thursday that he was not surprised by Putin's remarks or their intent, adding that they were consistent with previous statements made by Russian officials on nuclear weapons systems and advanced technologies under development.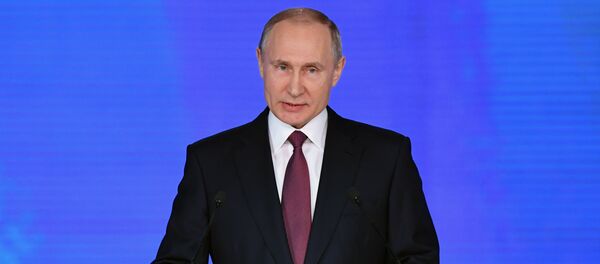 "I would say our concern about Russia's capabilities [and] our concern about Russia's direction that have been made in the past about the role of nuclear weapons predated Putin's speech yesterday, and I think it is broadly consistent with what has been stated before by Russian officials," Rood said at the Center for Strategic and International Studies (CSIS).
He added that he could not speak to US intelligence assessments on the hypersonics or other technologies displayed in the videos during Putin's speech.
Russian President Vladimir Putin said earlier on Thursday in his address to the parliament that Russia has developed intercontinental underwater drones and nuclear capable cruise missiles. He also said that the new Russian hypersonic aviation and missile system dubbed "Kinzhal" (Dagger) has been successfully tested and deployed to the south of the country.
During Vladimir Putin's speech, a video animation showed the newest SARMAT missile system hitting its target. Several Twitter users were among the first to notice that the land that the newest Russian missile was targeting in the video appeared to be the US state of Florida.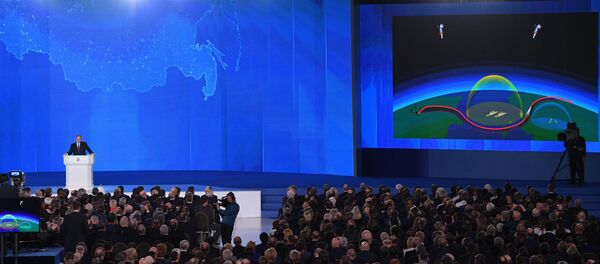 Meanwhile, the US State Department said on Thursday that Moscow allegedly confirmed the development of weapons in violation of its treaty obligations, including under the INF treaty.
"President Putin has confirmed what the US government has known for a long time that Russia has denied prior to this that Russia has been developing destabilizing weapons systems for more than a decade in direct violation of its treaty obligations," Nauert said. "Some of these that are not in compliance with the INF treaties. That's an area of particular concern to us," US State Department Spokeswoman Heather Nauert said.
"President Trump understands the threats facing America and our allies in this century and is determined to protect homeland and preserve peace through strength," Nauert said. "US defense capabilities are and will remain second to none… We believe that our military will be stronger than ever," US State Department Spokeswoman concluded.