Chairman of Dalian Shipbuilding Industry Liu Zheng told China Daily on Friday, "We have complete ownership of the expertise, in terms of design, technology, technique, manufacturing and project management, which is needed to make an advanced carrier," adding, "we are ready to build larger ones."
The Type 001A carrier displaced 55,000 tons when it was completed and displaces 70,000 tons with a full load — crew, supplies, fuel and, of course, aircraft. The roughly 1,000-foot-long carrier is roughly similar in length to the US Navy's Nimitz-class aircraft carriers and the Russian Navy's Admiral Kuznetsov. The People's Liberation Army-Navy's first and only currently operational carrier, Liaoning, is also about 1,000 feet in length with about 67,000 tons displacement at full load.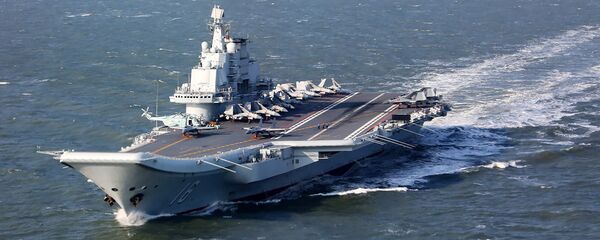 28 February 2018, 19:08 GMT
It's not clear in what sense Liu believes the next aircraft carrier can be larger. One area for growth consists of how many aircraft the PLA-N's carriers can hold onboard. The Liaoning can carry around 40 fixed-wing and rotary wing aircraft, while the Type 001A is designed to hold about 48 aircraft. By comparison, the US Navy's Nimitz-class carriers can transport at least 60 fixed-wing aircraft and helicopters and the newest Ford-class carriers can carry more than 75 aircraft, according to a US Navy fact sheet.
Earlier this week, the China Shipbuilding Industry Corporation announced a list of ambitions it hopes to complete in the coming years that included powering aircraft carriers with nuclear reactors.