"My point of view is the individuals who have said that the new cold war has started are not really analysts, they do propaganda. If you want to speak about arms race, than an arms race began at exactly the time and moment when the US opted out of the Anti-Ballistic Missile Treaty," Putin said in an interview with the NBC broadcaster, a fragment of which was published on its website. The president's answer was given in an English translation.
Russian President Vladimir Putin confirmed that the new intercontinental ballistic missiles (ICBMs) presented during his annual address to the parliament on Thursday had been successfully tested and some were already on combat duty.
"All of those tests were successful, it's just each of these weapons systems is at a different stage of readiness…. Some of them still have to be fine-tuned and worked on, others are already available to the troops and already are battle-ready," Putin said in an interview with the NBC broadcaster, answering the host Megyn Kelly's question whether nuclear-powered intercontinental ballistic missiles (ICBMs) were really tested or were just a computer graphics, as some experts claimed.
Moreover, Vladimir Putin clearly stated that one of such ICBMs was already on combat duty.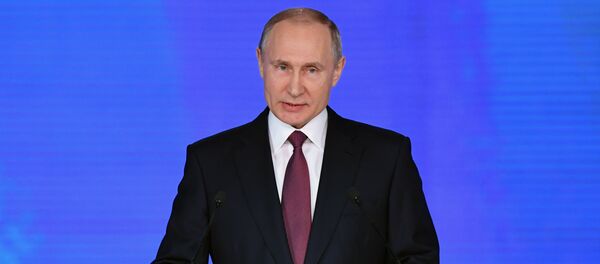 However, Russia and the United States should jointly fight terrorism, and should not create threats to each other, Russian President Vladimir Putin said in an interview.
"Instead of creating threats to one another, great powers should pool their efforts in protecting against terrorists," the Russian leader told the NBC broadcaster.
Putin also recalled that he had offered the United States to jointly develop an anti-missile defense system, but had been rebuffed.
Putin said earlier on Thursday in his address to the parliament that Russia has developed intercontinental underwater drones and nuclear capable cruise missiles. He also said that the new Russian hypersonic aviation and missile system dubbed Kinzhal ("Dagger") had been successfully tested and deployed to the south of the country.
The president's address has broken a record in terms of duration, having lasted for one hour and 57 minutes. It was for the first time accompanied by a multimedia presentation that showed the tests of Russia's most modern weapons.
The Anti-Ballistic Missile Treaty was an arms control agreement between the United States and the Soviet Union on the limitation of the anti-ballistic missile systems used to defend against ballistic missile-delivered nuclear weapons.
The ABMT was signed in 1972. In 1997, Russia, Belarus, Kazakhstan and Ukraine agreed with the United States to succeed the Sovient Union in the treaty. In June 2002, the United States withdrew from the treaty, and the ABMT was terminated.