With Emma wreaking havoc across the UK, at least five trains have ended up stuck between distant stations. Some trains in the UK are powered via the third rail, and this key rail froze thanks to the freezing rain brought along by the nightmare storm.
According to the Evening Standard, at least five trains were stuck through what the passengers called the "night of hell."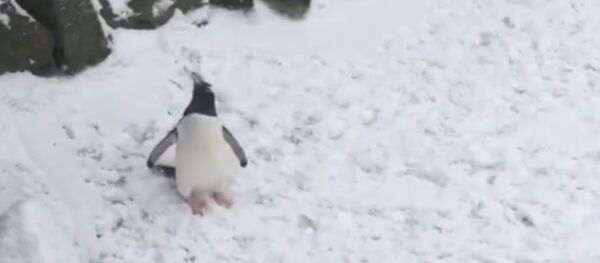 Trapped in their trains, the passengers had no source of food or water besides what they brought along — and no one counted on their trips lasting 10 hours longer than expected. Without electricity, the train heaters slowly went off, leaving passengers in the cold. It sounds like a plot of a good survival thriller movie — except this was real.
"We are actually stranded. No hotels, no movement apparently — we aren't moving all night. Now the next train has broken in front and back after moving another off. We are in for the night. No water, no food. The longer we stay the icer it gets and other trains can't move," Nicky Marcelin-Horne, one of the passengers stranded on a train from London Waterloo to Poole, wrote on Facebook. "This is not good, it's cold and dark."
​But Marcelin-Horne and her colleagues refused to succumb to panic and despair: instead of crying and complaining, they decided to… make friends with other passengers!
"There was about 20 of us in one carriage and then others in the other side. We were the happy side. Singing and trying to keep happy. They were such a good group of people," she told Metro.
As the passengers got acquainted with each other, the wait turned into a social gathering. And, by the looks of it, it was hell of a fun!
At one point, even the train driver joined them to hang out.
"We tried to keep positive. When it went dark, Steve started to sing happy birthday to keep us all happy," Marcelin-Horne told reporters.
But, despite the laughter, they all knew that things were pretty bad.
"We are laughing but we want to cry," Marcelin-Horne says on a video.
"'The only food we had were cookies made by Steve's wife and some crisps from the vending machine. We were also sharing waters," she said later in an interview. "It started getting colder when the heaters went down. We were all concerned. It was scary. One girl who was travelling to Weymouth was really cold and worried so we all gave her clothes and kept her positive."
All in all, they spent 10 hours in the train. They only reached their destination at 3:30 a.m.
Marcelin-Horne and the others surely have something to remember. Who knows, maybe they all will stay good friends after their harrowing experience?