Today, the humanitarian corridor in Eastern Ghouta, a suburb of Damascus, has been shelled four times, as terrorists continue their provocations in Syria even during aid pauses, according to the Russian Reconciliation Center for Syria. Three civilians were injured as a result of the continuous shelling of checkpoints in Eastern Ghouta by the terrorist groups, the defense ministry says.
READ MORE: US Mulls Holding Russia Accountable for Situation in Eastern Ghouta
The Russian military called militants' actions a "war crime" and vowed to bring those responsible to justice.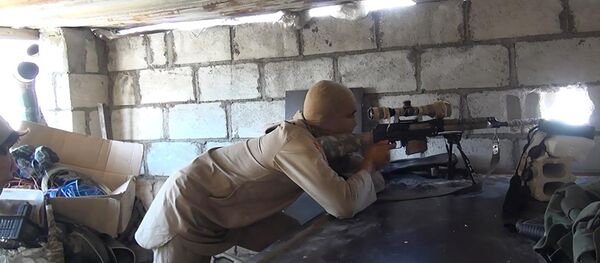 The ministry also warned that the al-Qaeda-linked Nusra Front was preparing provocations in Eastern Ghouta in order to prevent the UN humanitarian convoy from reaching civilians. Militants in the outskirts of Damascus actively use underground tunnels for their raids, the Defense Ministry added.
Today, civilians again haven't managed to leave Eastern Ghouta, since terrorists keep people as "human shields," according to the Russian Reconciliation Center.
READ MORE: Syrian Army Publishes Shocking VIDEO of Kids Fleeing Militants' Fire in E Ghouta
On March 3, the fifth humanitarian pause, aimed at enabling the civilians of Eastern Ghouta to leave the region, began. Four previous aid pauses provided no results as militants continue to hold local residents on pain of death.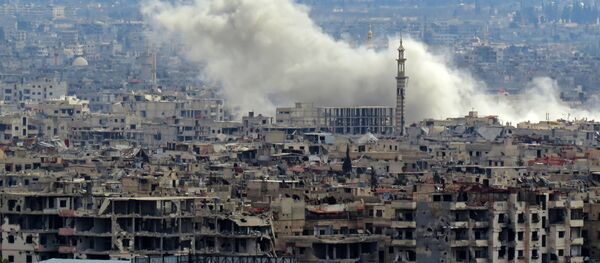 Last week, the UN Security Council unanimously adopted resolution 2401 that urges all parties to the conflict to immediately cease hostilities and adhere to a long-term humanitarian ceasefire for at least 30 days across Syria in order to ensure the safe and unhindered delivery of humanitarian aid supplies, as well as the medical evacuation of injured people. Despite the adopted resolution, the situation in Eastern Ghouta remains tense.
Since the ceasefire does not apply to anti-terrorist operations, Syrian government forces continue to battle militants in the region. The situation in Eastern Ghouta has escalated over the past weeks as local militants are actively fighting back, shelling Damascus and its suburbs. Damascus says it opens fire in response to shelling from Eastern Ghouta, whereas the western countries are accusing the Syrian government and Russia of being responsible for the mounting tensions in the area.