"The situation near the crossing keeps worsening. Snipers keep targeting the vicinity of the crossing," Yevtushenko told a briefing.
The head of the center added that none of the civilians were able to leave Eastern Ghouta because of the militants blocking access to the humanitarian corridor.
Yevtushenko reiterated that Nusra Front terrorist group, was preparing an attack on the UN humanitarian convoy and planning to blame this on Damascus. Maj. Gen. Vladimir Zolotukhin, the spokesman for the center, mentioned these plans earlier in the day, citing the data from the Syrian intelligence.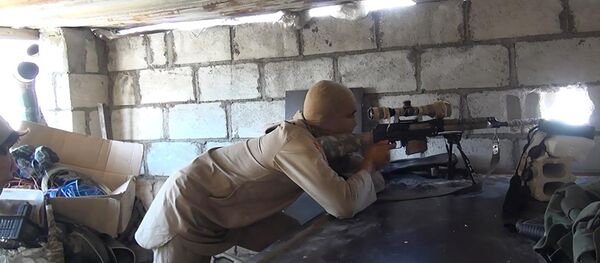 Moreover, the ceasefire regime is being constantly breached in Syria's provinces of Aleppo, Damascus, Eastern Ghouta, Latakia, the head of the Russian center for Syrian reconciliation Maj. Gen. Yury Yevtushenko said Saturday.
"The 30-day ceasefire regime introduced on the territory of Syria by the [UN] Resolution 2401 is being constantly breached by illegal armed groupings in the provinces of Aleppo, Latakia, Damascus, as well as in Eastern Ghouta," Yevtushenko told a briefing.
Yevtushenko added that Damascus' residential areas and its suburbs have been shelled eight times in the last 24 hours, with 64 shells fired, which left civilians injured and led to material damages.