"The Colombian police are in mourning after a coward attack at the Caldono-Siberia road in the Cauca Department where two our patrolmen Jorge Andres Quintero Garcia and Jhoan Sebastian Rodriguez Barbosa were killed," Nieto wrote on his Twitter page on Saturday.
According to the Tiempo media outlet, the ELN militants staged an explosive device on the road and shot the patrolmen when the latter left the car after the blast.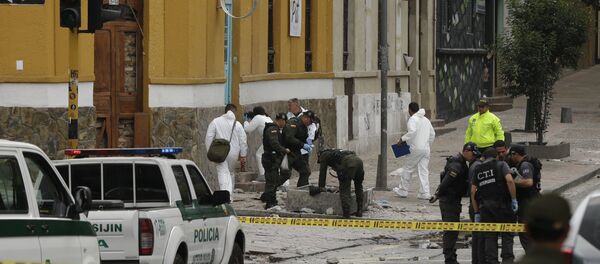 27 January 2018, 15:40 GMT
The ELN, which is the second largest guerrilla movement in the country after the Revolutionary Armed Forces of Colombia (FARC), has been engaged in an armed struggle with the country's authorities since 1964.
In February 2017, the armed group engaged in peace talks with the Colombian government.
The negotiations were expected to be renewed in the Ecuadorian capital in January, when a ceasefire between the Colombian government and the ELN rebels was due to expire.
However the talks were suspended due to the recent series of attacks on the country's police, allegedly perpetrated by the rebels.