KaratBank, a company based in Singapore, has just announced the launch of KaratBank Coins (KBC), a new cryptocurrency it said is tied to gold. But not simply the price of gold, like other currencies — to actual pieces of gold: they're embedded in plastic cards or bank notes. At least, that's how it appears on first sight.
"The KaratBank Coin is designed to be used as a generally accepted electronic payment means for all who consider gold as a traditional, true, secure and value-stable medium," the company's whitepaper reads.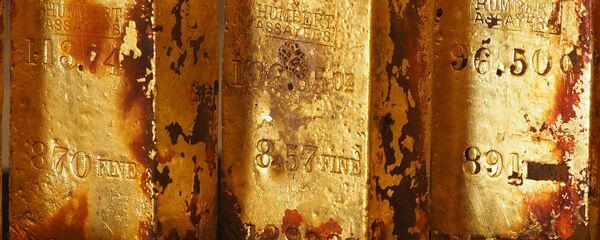 While such an announcement might sound like a historic milestone in making cryptocurrency equal to more traditional methods of payment, it would be wise to temper your hopes
KaratBank is a sister company of KaratBars International, located in Germany. KaratBars actually sells gold in very small amounts (like, 0.1g to 1g bullions), embedded into plastic cards (Karatbars) or cash-like notes (CashGold). The notes are notoriously overpriced: back when 1 gram of gold cost $39.50, the 1g CashGold note cost $65.
According to KaratBank whitepaper, 10,000 KBC can be exchanged for 0.1g CashGold notes.
The pre-initial coin offering has already begun and will continue until March 21, with the main ICO beginning March 22 (1 KBC = $0.05), Coin Telegraph reports.
However, KaratBars International as a company is strongly associated with scams. A simple search for KaratBars in Google returns three links with word "scam" in them on the first page. KaratBars was banned in Canada in 2014 over an Autorité des marchés financiers (AMF) Scam warning.
The Canadian government found that KaratBars implements some sort of multi-level marketing (MLM), or "pyramid" organization that encouraged people to hire new recruits and make money from their sales, promising a return of $15,000 to $136,000 per month.
But Is KaratBank is a different story? Well, yes and no. Upon closer look at the company's whitepaper, one finds the following:
"United States of America citizens, residents (tax or otherwise) or green card holders as well as residents of Canada, the People's Republic of China or the Republic of Singapore are not eligible to participate in the KaratBank ICO."
According to the BehindMLM website, the reason for this might lie in the fact that those countries have implemented strict regulations on ICOs, and KaratBank does not want to have anything to do with them.
"ICOs are not illegal in the US or Canada. In the US, though, ICOs are typically considered securities and require registration with the [Securities and Exchange Commission]," the website reads. "Singapore hasn't banned ICOs but it is one of the countries KaratBars International operates in through the shell companies KaratPay and KaratBars Singapore. Singapore regulators shutting those companies down would cripple KaratBars International. Management probably figure it's best not to take any chances."
To operate legally in any jurisdiction, KaratBars International would have to register itself with the appropriate securities regulator in that jurisdiction, which the company seems to want to avoid, raising suspicions.
The website also raises other suspicion. For example, the "investment packages" come with a timed "free membership" period, after which an annual membership fee will be withdrawn.
"A legitimate ICO doesn't have annual membership fees, further differentiating KaratBank Coin from a legitimate cryptocurrency," the website warns.
There is also this really confusing paragraph in the whitepaper:
"The KaratBank Coin is a speculative coin. Although the proceeds from the sale of the KaratBank Coin shall mainly be used for the purchase of CashGold, the KaratBank Coin is not pegged to the purchased CashGold."
What this means, apparently, is that being advertised as a "linked to gold," its actual status as such is at least debatable.
"The whole CashGold voucher exchange thing exists for no other reason than to create the illusion that KBC has something to do with the value of gold," BehinMLM.com reads.
As with any MLM business, the terms and schemes of Karat are convoluted and difficult to understand. With this many warning signs, we would strongly advocate thorough research of KaratBank before investing serious money.