Sputnik discussed Theresa May's keynote speech with David Paton, Chair of Industrial Economics at the Nottingham University Business School.
Sputnik: Various experts found Mrs. May's speech rather disappointing. What is your overall feeling about her address? Have the future relations between the UK and the EU become clearer?
David Paton: I think there was something for everybody in it, it's an attempt to bridge the gap between the sort of extreme Remainers in this country and the Brexiteers, so the tack she seems to have taken is to say we will reserve the right to make changes to our regulations and our tariffs and so on, but we will not actually exercise them, we will try to stay as close as we can to the EU to make trade, instead, easy. Well, that's not necessarily a bad strategy, because what people on the Brexit side of the argument want is the control, the ability to make their own decisions in the future on regulations and tariffs and so on.
© AP Photo / Leon Neal/Pool Photo /
Britain's Prime Minister Theresa May delivers a speech at Mansion House, in London, Friday, March 2, 2018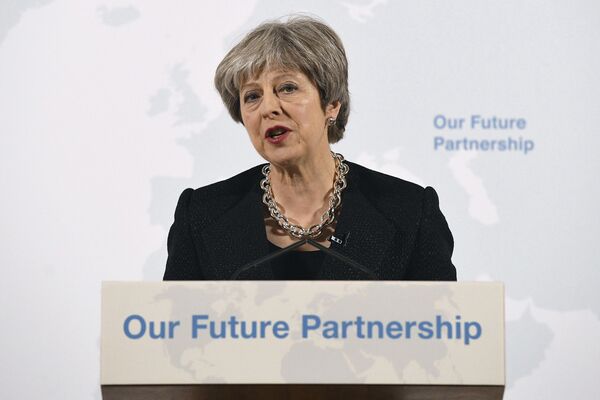 Britain's Prime Minister Theresa May delivers a speech at Mansion House, in London, Friday, March 2, 2018
© AP Photo / Leon Neal/Pool Photo /
Sputnik: Brussels already has dismissed May's vision as unrealistic, so how [can] all of it affect Mrs. May's image and position further on?
David Paton: I think the speech was interesting yesteday, because she was speaking more to the leaders of the other European countries and to the EU itself. People like Guy Verhofstadt (the European parliament's Brexit coordinator) dismissed what she was saying, but he was probably going to do that with whatever she said. I think the people she was really taking to were the people in France, Germany and Ireland; for them trade with the UK is really important, and she was saying to them we can have a trade deal, it has to be in the interest of both sides, and you know, trade deals economically, and are not something you give to another country, it's something you do for your own benefit, because they benefit both sides, so I think she's saying to them, we know you're still going to want to have access to the UK financial system to sell cars to the UK, and in the case of Ireland sell dairy and agricultural products, so let's find a way to make that happen as easily as possible, but accepting that the things that we have to do in this country, something that's absolutely clear, that we have to leave the customs union and the single market to, sort of, enforce the desire of what happened in the referendum. I think they're the people who she's really talking to in the speech on Friday.
READ MORE: Oops! UK PM Jokes About Unfortunate Campaign 'Interruption'
Sputnik: There is the issue of the hard border in Northern Ireland, what's your position, your opinion?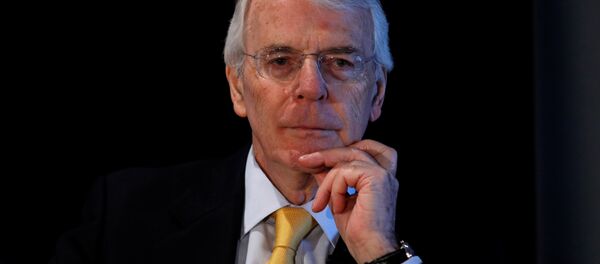 David Paton:
I think to some extent it's a bit of a red herring, there isn't going to be a hard border, as both sides have made that clear, the UK is suggesting you can deal with that to avoid differences in regulations like it's dealt with at the moment. You can have checks outside the border, you can have trusted trader status, you can have electronic checks, most customs checks are now done electronically, so there's not really a fundamental issue with that. I think the issue more of the EU is pointing to is that they're worried if we leave the customs union there will be import competition, so we'll cut tariffs on goods coming in from countries outside the EU and that will give [rise to] competition with EU goods coming into the country. So the EU, of course, would really like the UK to stay in the customs union, and I think that's where their drive to talk about the hard border and focus on that as an issue is really coming from, it's worries about competition rather than really a worry about there being some kind of hard border, I don't think there's any prospect o that happening. Certainly technically the HMRC (HM Revenue and Customs) and the EU themselves say that they have technical reports saying that in respect to the outcome of the negotiations in terms of free trade, it's possible to implement the checks that are needed without having the physical infrastructure at the border, so I think to some extent the problem itself is really a smokescreen for something else.
Sputnik: What's your view with regard to how these trade relations between the EU and Britain are going to develop, is it still going to be very much walking on thin ice, maybe even getting to the eleventh hour and negotiations still being held in Brussels in the last weeks and days of March 2019 before a negotiated agreement is actually nailed to the mast, so to speak?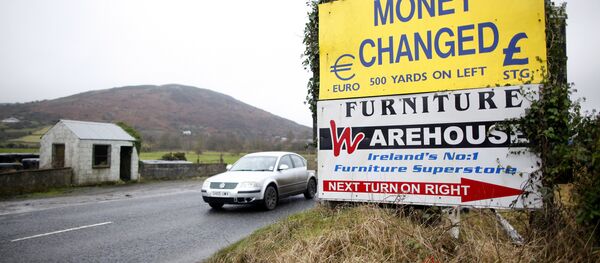 28 February 2018, 18:00 GMT
David Paton:
This is the EU we're talking about, so that scenario is inevitable, it always happens with these kinds of negotiations, and there will be lots of posturing in advance and saying [talk of] oh we can't do this, oh, we can't to that, but in the end, my guess is, that when something is so obviously in the interests of both sides that they carry on with a decent trading relationship, there will ultimately be a deal which will be comfortable for both sides. I guess the key thing will be in terms of the UK position, as long as they hold out to what treason they have talked about in terms of the redlines, and that we will have independence, leaving the customs union and the single market. In the end, the EU will really want to have a trade deal with the UK and you suspect that's what's going to happen. I think they will be there, sort of, at three in the morning, late at night with coffee and beer and sandwiches, and they can come out with an announcement saying 'against all odds we've come up with a deal.' That's how the script will work.
The views and opinions expressed in this article are those of the author and do not necessarily reflect those of Sputnik.