China first revealed its plan to build its first overseas naval base in Djibouti in 2016. As a focal point of the Belt and Road Initiative, championed by Chinese President Xi Jinping to boost the nation's global influence, Pakistan's ports on the Indian Ocean are widely expected to host a new Chinese military base in the near future.
In response, Indian Prime Minister Narendra Modi secured access to naval facilities in Oman during an official visit last month. Earlier this year, India reached an agreement with Seychelles to build military infrastructure on the Assumption Island.
Geographical Advantage
As India and China both strive to boost their naval presence and strength in the Indian Ocean, New Delhi is likely to continue to enjoy an advantage over Beijing in the region thanks to is geographical proximity, military experts told Sputnik.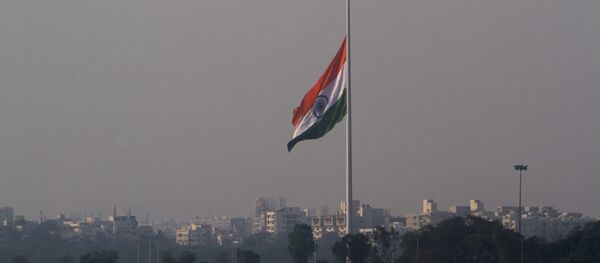 "India is stronger in the Indian Ocean, because China has to go through choke points in the Southeast Asia. Their logistic line is very stretched. Although they have an aircraft carrier, it would take them a long time, probably decades, to incorporate that into an aircraft carrier battle group, which would allow them to achieve sea-control in the Indian Ocean. In this sense, I would say it would take maybe two-three decades. India still has a great advantage over the Chinese Navy in the Indian Ocean. I am not talking about West Pacific. I'm only talking about the Indian Ocean," Gurpreet Khurana, an Indian Navy captain and executive director of the National Maritime Foundation in New Delhi, India, told Sputnik.
READ MORE: India Turns to China-Based AIIB for Loans to Fund its Infrastructure Dream
The Indian military expert explained the reasons behind China's naval expansion in the Indian Ocean.
"Geography is very important in assessing the comparative naval strength [between India and China]. China has a very adverse geography. Its land-to-coastline ratio is very adverse, which is one of the worst in the world. It means that a lot of China is land-oriented. Its coast in the east is very far from the source of natural resources. Because of this, it needs to come to the Indian Ocean desperately as its economic power continues to grow," Khurana said.
India's Concerns
Khurana illustrated why China's increasing military presence in the Indian Ocean could cause concerns in New Delhi.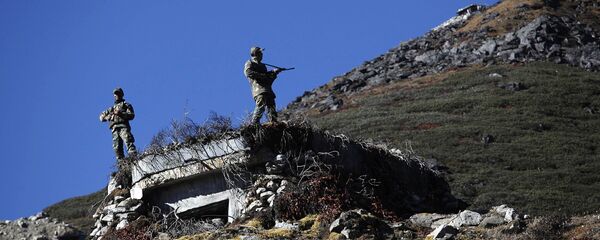 17 January 2018, 14:40 GMT
"Because of India's geographical position, the Indian Ocean becomes very critical to the country's national security interests. In other parts of the world, such as the Indo-Pacific, we do not have the luxury of the West which has fought wars and got over it. We still have traditional military insecurities. India still has adversary relations with China, which has increasingly come into the Indian Ocean region. This has heightened the insecurity for India," he said.
The New Delhi-based expert argued that India might decide to expand its military presence closer to Chinese territory in response.
"Although India has sufficient strategic depth in terms of territory, because of the overwhelming security stretch, it needs to have a greater area. India's strategic frontier needs to expand beyond the Northern Indian Ocean. It has to expand southward and eastward, to the Western Pacific. That's how the concept of Indo-Pacific comes into play, because of China's increasing presence in the Indian Ocean," he said.
China's Vulnerability
Chinese leaders understand the nation's maritime weakness and seek to compensate this geographical disadvantage by establishing new naval bases in the Indian Ocean, Khurana suggested.
"Although the Indian Navy has a distinct advantage over the Chinese Navy in the Indian Ocean so far, Chinese realizes it. That's why, they're trying to offset India's advantage by building facilities in the Indian Ocean. For example, Djibouti and [Pakistan's] Gwadar or Jiwani could all have Chinese naval bases. What Chinese is trying to achieve is to shorten their logistic lines. They would be able to do it to a certain extent, but not completely. That's because even when they have bases or facilities in the Indian Ocean, they would need to be resupplied from their home base in China," he said.
The Indian naval officer pointed out a key vulnerability of China in the Indian Ocean.
"The naval bases China has in the Indian Ocean would be very vulnerable to Indian military strikes. It would be difficult for them [China] to establish sea-control in the Indian Ocean. If you cannot establish sea-control, all your surface base and air base operations cannot be undertaken. Because of the historic adversary relations between the two nations, China is very vulnerable in the Indian Ocean because its energy supply lines passing through that area, where the Indian Navy traditional had a very strong presence. China would not be able to directly protect its oil shipments coming from the Gulf region or Africa through the Indian Ocean. What the Chinese is trying to do now is to increase their submarine presence in the Indian Ocean, as submarine warfare does not need sea-control. But the only way they can use submarine forces is in retaliation," he said.
No Military Conflict in Near Future
Following almost three months of military standoff over a disputed border area, China and India finally decided to withdraw their troops to end the conflict peacefully in August 2017. Rising rivalry between the two nations in the Indian Ocean raised questions about a possible future China-India warfare at sea.
Military experts argued that such warfare in the Indian Ocean is unlikely to take place in the near future.
"I do not foresee an armed conflict in the Indian Ocean in the foreseeable future, until China consolidates its economic and military power in the Asia-Pacific region. Currently, China has only one aircraft carrier for training purposes. When China finally builds up its nuclear-powered aircraft carrier, perhaps we can see more powerful Chinese forces going into the Indian Ocean. Right now, any Chinese forces sent to the Indian Ocean would be weak. I do not think they try to create a conflict with India," Ben Ho, a naval analyst with the Military Studies Program at Singapore's S. Rajaratnam School of International Studies, told Sputnik.
The Singapore-based military expert believes new Chinese military bases in the Indian Ocean could serve other purposes, instead of providing support in a traditional warfare.
"The establishment of new military facilities in the Indian Ocean, in countries like Sri Lanka or some of the Indian Ocean islands in the future, could give Chinese some advantages, but not in a high-end warfare sense. After all, they [the bases] are too small and isolated to provide much help for the Chinese military. They're more for conflicts below the warfare, such as counter-piracy missions or evacuation of Chinese nationals from crisis regions," Ho said.
The expert added that new naval bases in the Indian Ocean also fit China's overall strategy of protecting its economic interests globally.
China's navy evacuated 600 Chinese nationals, along with over 200 foreigners, from the port of Aden in Southern Yemen in 2015, amid severe fighting in the restive African nation plagued by violence and domestic conflicts for years. The first massive evacuation of its citizens from overseas won applause for the Chinese military domestically. A Chinese movie depicted a similar story shattered domestic box office records last year, while invigorating overwhelming patriotic sentiment in China.
The views and opinions expressed in this article are those of the speaker and do not necessarily reflect those of Sputnik.