A French woman working for an NGO called SOS Chrétiens d'Orient, and who opted to remain in Syria as her organization decided in February to close shop there due to safety concerns, told Sputnik on condition of anonymity that the militants holding  Eastern Ghouta have been shelling Damascus for a long time, and that the shelling has intensified during the last ten days.
"In the West they talk a lot about the events in Ghouta which is indeed being heavily bombed – the sounds of airstrikes can regularly be heard at my apartment. But Damascus is being shelled as well, and it is being shelled by the jihadists entrenched in Ghouta.  They use rockets and mortars to shell the city and especially  Bab Touma, a Christian borough where many refugee families live," she said.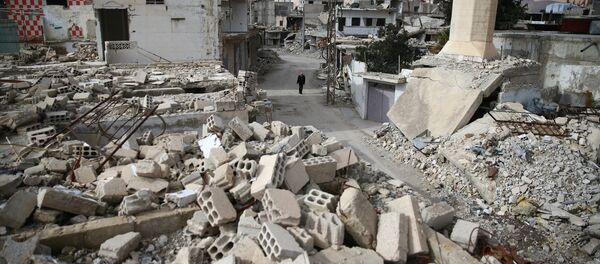 "The Old Town  usually bustled with activity – people strolling around, visiting each other and going to the market. Now it has become desolate; cafes stand empty and few dare to venture out into the streets. Here and there you can see the marks left by exploding mortar shells. The residents are afraid to leave their homes," she added.
The woman shared the stories of two Syrian men who fell victim to the shelling which the West apparently prefers to ignore.
"I met a man yesterday, he's 33 and has a family and children. His 7-year old son was killed by a mortar shell,  he himself was injured while shopping at a local marketplace. Basically, you can get hit by a shell anywhere, anytime. Ather man was going to his aunt's funeral at a church in Bab Touma, and now it remains unclear if he will ever be able to walk again. He heard an explosion and found himself falling down. He lost a lot of blood, and it's a miracle that he's still alive. The man is now waiting for an opportunity to receive an operation," she said.
READ MORE: E Ghouta Militants Promise to Free Civilians in Exchange for Aid — Russian MoD
The volunteer also explained that residents of Damascus bear a grudge against Western media, as the city has been shelled for many months yet no one is inclined to talk about this matter "in the West, in France."
"As one Syrian told me, 'the Western media kill us a second time by keeping quiet about what's going on here.' This is a hot topic among the local Christians. Once, when I mentioned that I'm French, people started asking me why French media do not talk about what's happening here. Are the children who die in Damascus less important than children who die in Ghouta?" the woman said.
The humanitarian situation in the eastern suburb of the Syrian capital, has dramatically deteriorated since February 18, when Syrian government forces launched an operation codenamed Damascus Steel, in a bid to clear the region of militants. The terrorist groups entrenched in the area deliberately striving to escalate the situation in East Ghouta, preventing civilians from leaving the area and provoking retaliatory fights against the Syrian government, according to the Russian military.
The views and opinions expressed by the volunteer are those of the speaker and do not necessarily reflect those of Sputnik.