The center earlier said that the convoy of 45 trucks delivered 247 tonnes of humanitarian aid to residents of Douma.
"At the same time, the illegal armed groups have been detaining the humanitarian convoy for two hours, and then tried to disrupt it. Thus, at 17:00 [15:00 GMT] Jabhat al-Nusra terrorists have fired mortar shells at the humanitarian convoy … There were no casualties among the staff members of the humanitarian mission," Gen. Maj. Yury Yevtushenko said.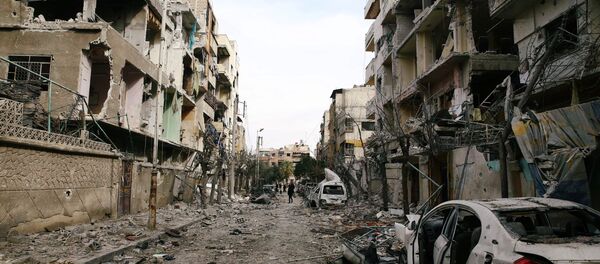 Also, Yevtushenko noted that the militants in Syria's Eastern Ghouta have intensified the shelling of Damascus and the Muhayam-Al-Wafedin humanitarian corridor.
"Despite the daily 'humanitarian pauses' introduced at the initiative of the Russian side within the framework of the UN Security Council's Resolution 2401, the illegal armed groups in the Eastern Ghouta are gradually enhancing  the shelling of Damascus and the Muhayam-Al-Wafedin humanitarian corridor," Yevtushenko said.
The shelling was carried out from the territory that is controlled by the Jaysh al-Islam militants, the official underlined and noted that a hospital was shelled early on Monday.
"The civilians of Eastern Ghouta are blocked by the terrorists who are using them as human shields," Yevtushenko added.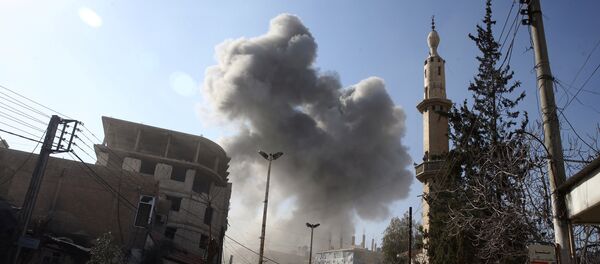 The Russian Center for Syrian reconciliation also announced on Monday its readiness to provide a safe exit for the leaders of
armed groups
and their families from the Eastern Ghouta suburb of Damascus.
"If you do not want to release civilians from the occupied areas, we are ready to guarantee a safe exit from Eastern Huta to you and your families," Maj. Gen. Yury Yevtushenko said in a statement.