"Third world" residents may indeed travel to the Western world, but once they are there, few of them can actually do any better than obtain subsidized jobs, a phenomenon reproduced from generation to generation. The best thing to do, therefore, is to pay immigrants to go home again, Danish historian and politician Morten Uhrskov Jensen wrote in a controversial opinion piece in the newspaper Jyllands-Posten.
Uhrskov Jensen argued that the problem of "third-world immigrants" was "insoluble." As long as they themselves and their children stay in Denmark, a country of fewer than 5.8 million which as he put it, "received nearly half a million third-world immigrants," their inability to support themselves is repeated in the coming generations, he argued.
"Indeed, the solution of the problem consists in admitting that the current course is untenable and then recognizing the only necessity, which is massive repatriation on the part of the rule of law," Uhrskov Jensen wrote, calling immigrants a "burden on the tax-payers' wallets."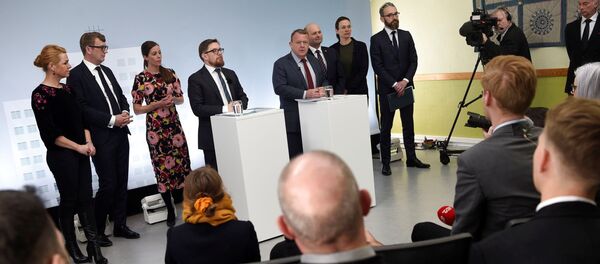 Citing data from
Statistics Denmark
, Uhrskov Jensen wrote that third-generation immigrants from the "third world" are only slightly more self-sufficient than their parents, and still much less likely to support themselves compared with ethnic Danes.
At the same time, even second-generation immigrants are far more criminal compared with their parents, who immigrated directly from the "third world." As far as Danish-born immigrants are concerned, development is clearly in the wrong direction, Uhrskov Jensen opined.
READ MORE: Take Them Back! Denmark Mulls Making Iraq 'An Offer It Can't Refuse'
"No European country with major immigration from the third world has good or even reasonable experience," Uhrskov Jensen stated, suggesting that immigrants should be lured "back home" using the same method "liberals and socialists" have used to encourage them to move into the Western world — generous contributions.
As a historian, Uhrskov Jensen made a comparison with Danevirke, his country's first border wall against the Germanic tribes. Translated as "Danes' earthwork," the Danevirke was started in the Iron Age at some point before 500 AD and was expanded multiple times during the Viking Age. Remnants of the 30-kilometer long Danevirke are still visible today and are considered a landmark.
"Probably, at least 400,000 of the over 500,000 third-world immigrants we have in Denmark today will be able to leave the country. It will not be cheap, but it will be the best investment since the first parts of Danevirke were built in the 5th century," Uhrskov Jensen wrote.
Ironically, the Danevirke proved powerless against the one invasion that truly mattered, the Christianization of Scandinavia during the 10th and 11th centuries.
READ MORE: Denmark's Largest Party Grilled for 'Send Asylum Seekers to Africa' Plan
Morten Uhrskov Jensen is a historian, a Copenhagen University alumnus and a lecturer at the Herlufsholm School. He is the author of two critical books on immigration, "A people divided" and "The cost of immigration." He is also the leader of the Danish Unity, a party based on Christian nationalism and presenting itself as a third way between socialism and liberalism.
"Third World" countries were originally understood as those which were neither part of the NATO and OECD-dominated developed "First World," nor part of the Warsaw Pact-dominated or otherwise communist "Second World." The term has fallen out of favor since the collapse of the USSR, and the World Health Organization and others now use the term "low- and lower-middle-income countries," which is based on World Bank statistics.
READ MORE: Does Denmark Really Want to Banish Asylum Rejects to Deserted Island?