The group known as FEMEN was established in 2008 by a group of four Ukrainian women who sought to use public nudity as an element of protests against sexism and violence against women, first taking to the streets of the nation's capital to declare that "Ukraine is not a brothel." Since then the group's brand of 'sextremism' has spread around the world, with topless activists stirring things up and making headlines in various countries.
Time's Up, Berlusconi!
As former Italian Prime Minister Silvio Berlusconi showed up in Milan to do his civic duty by voting during the March 4 elections in Italy, he was accosted by a topless FEMEN activist who shouted "Your time is up, Berlusconi!" at him. The politician appeared unfazed by the altercation, casting his ballot and departing from the voting station, while the woman was escorted away by security.
Sorry, Wrong Embassy
A lone FEMEN activist in Ukraine made an attempt to protest against the re-election of incumbent Czech President Milos Zeman. Due to a mistake on her part however, the topless activist ended up holding her one-woman rally in front of the Embassy of Slovakia instead of the Czech embassy.
​Erdogan's Cannibal Lunch
When Turkish President Recep Tayyip Erdogan visited Paris to hold talks with French President Emmanuel Macron, four FEMEN activists staged a protest against alleged human rights violations in Turkey. Four topless protesters dressed as waitresses were carrying a menu labeled 'Erdogan's Cannibal Lunch' which featured options like 'Sliced Kurds', 'Gay Pudding' and 'Stewed Journalists'.
Nativity Crashers
Last Christmas a topless FEMEN activist with 'God is woman!' written on her bare chest made an attempt to steal the Baby Jesus figurine from the Nativity scene at St. Peter's Square in Vatican City, during a protest against centuries of "assault and oppression of women."
Rage Against the Islam
In 2015 two topless FEMEN activists made an attempt to disrupt a Muslim conference held in the Paris suburbs. The women stormed at the stage where two imams were reportedly discussing whether it is right to beat a woman or not, screaming "No one can enslave me, no one can possess me, I am my own prophet!", but were quickly subdued by security.
When You Try to Charge Putin and Fail
In 2013 several topless FEMEN activists made an attempt to crash the visit of Russian President Putin and German Chancellor Merkel to the Hannover Messe tech show. The women violently charged at the Russian president, shouting obscenities, but were immediately tackled by security, while the Russian leader appeared visibly amused by their escapade.
© YouTube/screenshot /
Putin vs Femen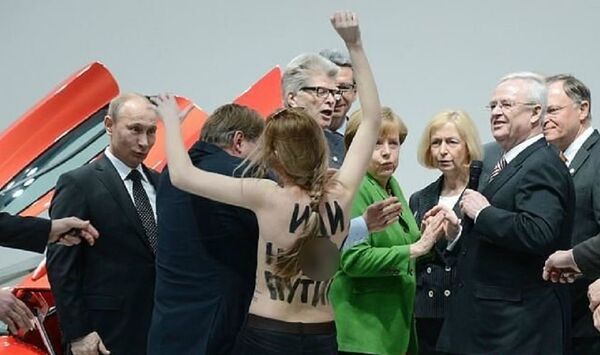 Putin vs Femen