During its two week+ offensive against militants in Ghouta, codenamed Operation Damascus Steel, the Syrian army has freed about 35% of the rebel held pocket from rebel control.
Speaking to Sputnik about the current strategic situation, Kemal Jafa, a Syrian political and military observer, said that the army's successes stem from its novel approach, which has included surprised offensives from multiple strategic directions.
"The militants were very surprised that the Syrian army launched an offensive from the eastern direction," the observer said. "The terrorists had prepared for the main battles to be in the areas of Harasta and Jobar. Initially, the Syrian army had to busy itself with the fortifications erected by the militants in the east over the past few years. But ultimately they broke through both the first and second lines of defense, after which the militants retreated deep into residential areas. Now, they are rapidly losing their positions and suffering one defeat after another. They cannot use their heavy equipment and many of the defensive positions they had prepared."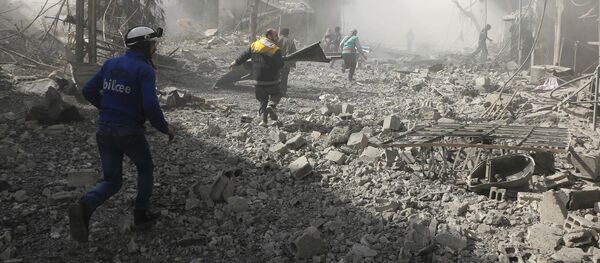 According to Jafa, the past three days have been particularly fruitful for the army, which has advanced from several directions at once into the militant-held enclave.
Jafa observed that the Western media's intense focus on the situation in East Ghouta was understandable, and comes from an appreciation of the fact that the outcome of this battle will affect the course of the entire Syrian campaign.  If the jihadists gain the upper hand, or even manage to maintain their positions, they will be able to continue destabilizing the situation in the Syrian capital, shelling the city and high-value targets such as other nations' diplomatic missions, leading those same nations to complain about the Syrian government's inability to provide basic security.
"I think that the militants will sign a truce, because they have lost their war-making capability. Now, we are on the verge of a new stage in the war in Syria –and this is very similar to the situation in Aleppo. Almost the same thing is now happening in East Ghouta," Jafa concluded.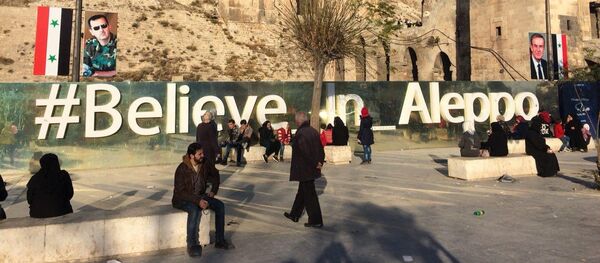 24 December 2017, 11:25 GMT
Aleppo's liberation from terrorist forces in December 2016 marked a turning point in the Syrian war, depriving the non-Daesh* (ISIS) Islamists and other foreign-sponsored rebels of a key strategic stronghold and a major industrial and population center. Since the city's liberation, an effort has been underway to rebuild it and return life to normal. Jafa
spoke to Sputnik
about that effort late last year.
* A terrorist group banned in Russia