Russian Foreign Ministry Spokeswoman Maria Zakharova slammed UK's allegations of Moscow's involvement in Sergei Skripal's poisoning on Tuesday as "groundless," adding that London should investigate the case properly before blaming Russia, according to reports in Russian media.
UK Foreign Secretary Boris Johnson confirmed earlier on Tuesday that Sergei Skripal and his daughter were the victims of an alleged poisoning in Salisbury. He added it was too early to speculate about the nature of the incident, though noted that London will respond if it appears that Moscow was involved.
"I am afraid that the events in Salisbury may very well, and again we must be very careful in what we say it is too early to prejudge the investigation but if the suspicions… prove to be well-founded then it may very well be that we are forced to look again at our sanctions regime and other measures that we may we seek to put in place," Johnson said in an address to parliament, referring to the possible introduction of additional anti-Moscow restrictions.
READ MORE: UK Police Close Down Restaurant as Part of Mysterious 'Poisoning' Probe
Meanwhile, the Metropolitan Police said that the UK Counter Terrorism Policing network is now investigating the circumstances of the incident.
"Due to the unusual circumstances, it has been decided that the Counter Terrorism Policing network will lead the investigation as it has the specialist expertise to do so. It has not been declared a terrorist incident and at this stage we are keeping an open mind as to what happened," the statement reads.
Earlier in the day, Kremlin spokesman Dmitry Peskov said Moscow wouldn't be surprised if it was accused of poisoning the ex-spy, adding that Russian authorities were ready for cooperation in the investigation.
The Russian embassy in the United Kingdom asked British authorities to inform Russia of the situation regarding the poisoning of two individuals in Salisbury to "finally put an end to demonizing Russia." 
According to the embassy official, UK media outlets are speculating on the issue.
"Even though UK law enforcement bodies offered no substantial statements on the circumstances of what happened, it is possible to draw a conclusion from media reports that this was a planned operation of the Russian security forces which does not correspond to reality," the spokesperson said in a statement obtained by Sputnik.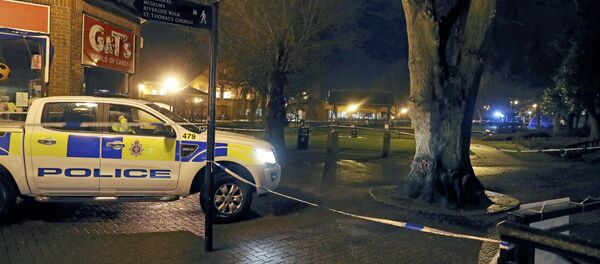 The two poisoned persons were taken to Salisbury District Hospital after being found unconscious on a bench at a shopping center.
"The pair, who we believe are known to each other, did not have any visible injuries and were taken to Salisbury District Hospital. They are currently being treated for suspected exposure to an unknown substance. Both remain in a critical condition in intensive care. Our thoughts are with their families. As part of our enquiries, a number of scenes have been secured. These include the Zizzi restaurant on Castle Street and The Bishop's Mill pub in The Maltings. At this time, we cannot confirm how long these cordons will remain in place," the Wiltshire police said in a statement.
The BBC media outlet reported citing its own sources that the man was Sergei Skripal, a former officer of Russia's Main Intelligence Directorate (GRU), accused of espionage on behalf of London, who was granted asylum in the United Kingdom after a US-Russia spy exchange.
In 2006, Skripal was sentenced in Russia to 13 years in prison for cooperating with the UK Secret Intelligence Service MI-6 and transferring the names of Russian intelligence agents working undercover in Europe. In 2010, then Russian President Dmitry Medvedev signed a decree pardoning Skripal.