Also this week, Oklahoma teachers formed a new group, "Oklahoma Teacher Walkout — The Time is Now," urging the state's 41,000 teachers to stage a walkout on April 2 if the state fails to increase their pay and provide more money for school supplies by spring.
Liz Davis, president of the Washington Teacher's Union and a 41-year veteran teacher from DC public schools, and Dr. Curry Malott, a professor of education at West Chester University of Pennsylvania, where he is the mobilization chair of the faculty union, told Radio Sputnik's Loud & Clear that the West Virginia teacher strike is just the beginning of a new wave of educator activism.
​On February 22, West Virginia teachers walked off the job, claiming that they were among the lowest paid educators in the country. Two days later, West Virginia Republican Governor Jim Justice proposed a 5 percent pay hike for teachers and promised to set up a task force to find a solution for the underfunding of the state's Public Employee Insurance Program (PEIA), a state organization that retails health care programs for state workers such as teachers.
But teachers rejected the proposed pay raise because it wasn't guaranteed — it would have to pass the state Senate, a process that looked doubtful. They didn't return to work on Thursday as proposed, enacting a wildcat strike, a strike action taken by members of a union without the union leadership's authorization. It's a bold move, since wildcat strikes are illegal in the US.
The strike continued through the end of the work week. On Saturday, the state Senate approved a 4 percent raise, causing angry union leaders to pledge to stay out of the classroom forever. The House did not agree with the Senate's move and the bill was sent to the conference committee, a temporary panel of House and Senate members formed to reconcile controversial legislation that has passed both chambers. The conference committee between House and Senate members met for more than an hour on Monday but were unable to reach an agreement, which means that schools will remain closed for 277,000 students, USA Today reported.
Echoing West Virginia teacher complaints about pay, teachers from around Oklahoma are planning to meet in Tulsa Friday to discuss an impending walkout this spring.
"A walkout would be the last resort, but we want more money for education in the state, that means more money for supplies, more staff and pay raises so teachers will stay," said "Oklahoma's Teacher Walkout" leader Alberto Morejon, the Huffington Post reported.
"Teachers are leaving left and right, we're the lowest paid in the country," said Morejon, an eighth-grade history teacher in Stillwater, Oklahoma.
The group's Facebook page, which was just created last week, has more than 36,400 followers.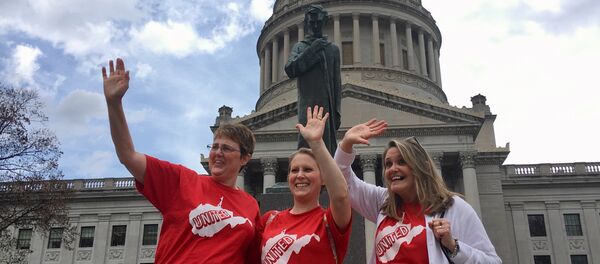 "Our teachers are exhausted, tired," Oklahoma City teacher Heather Reed told Tulsa World.
Davis told Radio Sputnik that this is just the beginning of a wave of teacher strikes across the nation. "I believe we are going to see teachers in more states strike."
"The fact is, teachers are already doing work way beyond what they are hired to do. Teachers are fed up and we are quite proud that West Virginia teachers are taking a stand and we expect to see more of that. This strike that is happening in West Virginia is sparking a fire in teachers in DC, too. The pay raise currently being offered to West Virginia is a slap in the face for West Virginia teachers and all teachers."
Malott drew a similarity between the teacher strike in West Virginia and the US civil rights movement. "The civil rights movement didn't begin where it was easiest," he told Radio Sputnik.
"It began where people who were enslaved decided to lead the movement against slavery. I think it's the same scenario in West Virginia, where there is a long history of militant labor action that is not forgotten. A lot of the teachers in West Virginia identify as workers instead of professionals. The spirit of rebellion is emerging again. This even goes back to 2010 in Chicago, when teachers began to caucus in Chicago," Malott explained, referring to the Caucus of Rank and File Educators that ran an aggressive grassroots organizing campaign against school privatization eight years ago.
"It started it Chicago, it spread to Seattle, then Philadelphia. Now, it's in West Virginia and spreading to Oklahoma. I agree that it's going to continue to spread. Teachers are leading the way," Malott noted.