The news comes as Europe's record cold snap has led to an increase in fuel prices and a reduction in gas reserves.
Moreover, some observers have said that the freezing weather had underscored Europe's dependence on Russian energy supplies.
Radio Sputnik discussed this with Justin Dargin, Global Energy Scholar at the University of Oxford.
Sputnik: Now in recent news we've heard that America is soon to take over the mantle of number one global provider, with regard to gas from Russia. What's your take on America's increase in gas supply?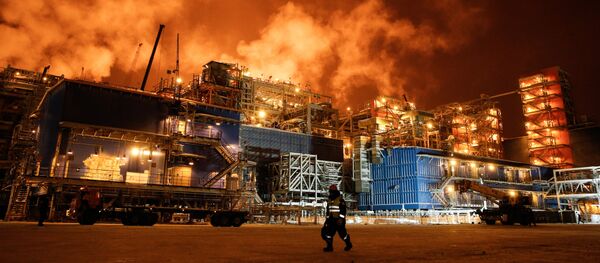 Justin Dargin: Of course American energy companies want to increase their exports globally […] and displace certain traditional exporters in Europe. At the same time, we also need to consider the fact that despite the rhetoric emanating from Brussels over the past decade about Europe seeking to diversify its fuel imports, we have seen its imports from Russia actually increasing. Russian gas now comprises about a third of the total EU gas consumption. At least in the mid-term, it is extremely difficult to compete with Russian natural gas imports in Europe in pricing and also in flexibility and reliability. Perhaps there could be US energy exports to Europe, but we can't expect it to displace Russia as the dominant gas supplier in the mid-term.
Sputnik: Earlier this year there was a tanker from Russia with Russian gas heading towards Boston. Why did US sanctions not hinder business in this particular case?

Justin Dargin: US sanctions do not necessarily impact the import of Russian gas. What the US sanctions are meant to do is to inhibit technology transfer to Russian oil and gas industry for unconventional natural gas and oil production. They weren't directed to inhibit any types of imports from Russia. I think that's a crucial point to remember, that's why the sanctions really did not have any type of impact on that.
READ MORE: WATCH Second LNG Tanker With Russian Gas Arriving in Boston
The views expressed in this article are solely those of the speaker and do not necessarily reflect the official position of Sputnik.