Steel will be taxed at a rate of 25 percent while aluminum will be taxed at 10 percent. Canada and Mexico are exempted from the policy, as required by the North America Free Trade Agreement. The tariffs are to take effect in 15 days. 
Trump noted that the US is renegotiating this agreement. "We'll terminate NAFTA and do it all over again… but I think we'll make a deal," he said during a White House signing ceremony. 
Under a somewhat obscure provision in the Trade Expansion Act of 1962 – specifically Section 232 – the president has substantial, if qualified, powers to take steps on changing imports. Specifically, the act allows the president to unilaterally change trade policy without Congressional action if the change is related to a 'national security threat.' 
According to Trump, "if you don't have steel, you don't have a country." The president reasoned that since military equipment is made with aluminum and steel, the US is making a decision out of "necessity of national security."
Echoing the way he described the United States as being in a state of "carnage" during his inaugural address, Trump claimed during the signing ceremony that the US metal industry has been "ravaged" by unfair trade policies. 
"Today, I'm defending America's national security," he announced. 
​Trump blasted the US trade deficit with countries around the world and singled out the trade deficit with Beijing, which he says is $500 billion a year.
For taxes applied on US products being sold in overseas markets, the US will explore "mirror tariffs" on products made by foreign countries sold to US consumers, Trump said. "We just want fairness, we want everything to be reciprocal."
According to a recent report in the "Heard on the Street" section of the Wall Street Journal, Trump's policies may have the opposite effect of his stated aim to end American trading deficits.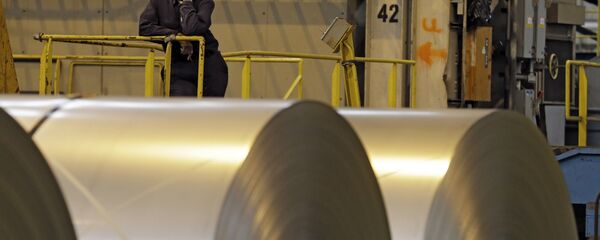 "The trade deficit will likely continue to grow… The tax cut and spending plans they helped usher in are likely to raise demand for goods and services among both consumers and companies this year. Some of those goods and services are going to come from abroad, so imports will rise. Exports should rise, too, since more US imports should help out overseas economies, but the effect won't be as pronounced," the WSJ reported March 7.