"We're here to challenge the link between the British government and the Saudi regime, which has created the worst humanitarian disaster in the world today in Yemen," Bell said at the scene.
"This link has strengthened the repression against the freedom movement in Bahrain and imposed a blockade upon the people of Qatar," he said. "We think these actions, particularly the action against Yemen, are a disgrace, and the fact that the British government is directly involved is the reason we are here today."
"This marks the beginning of a long struggle, and a shift in British politics away from uncritical support for the Saudi regime," he added.
Crown Prince Mohammed bin Salman began his three-day state visit by meeting with Prime Minister Theresa May at her official residence of No10 Downing Street.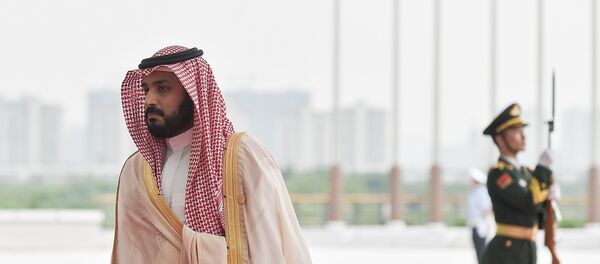 Whilst government sources heralded a successful meeting on mutual trade and renewed investment opportunities between the two nations, campaigners from multiple groups such as the Campaign Against Arms Trade and Human Rights for Yemen gathered nearby, prompting the deployment of a sizeable police presence.
Although the number of protesters initially appeared sparse, they were soon swelled by the appearance of hundreds more, with organizers claiming a total head count of between 800 and 1,000 persons in attendance.
Despite the arrival of a small group of pro-Salman supporters, several opposition lawmakers also joined the protest, in one instance citing UK's pullout from the European Union as a prime reason for its willingness to seek additional trade deals, regardless of the alleged political cost.
"Let's be clear, this is the effect of Brexit, it's the fact that they [the UK government] will trade with anybody now, whatever their human rights record," Andy Slaughter, a Labour member of parliament for Hammersmith, said.
"We do need trade, we do need good relations with countries, but that is very different from supporting a regime that breaks international law, again and again and again," he stressed.
The state visit marks the Crown Prince's first visit to the country since his appointment in June 2017. Despite being seen as the instigator of a sequence of reforms aimed at greater economic and social cohesion, internal and external policies have continued to prove controversial, specifically in regards to Riyadh's ongoing attempt to unseat Houthi rebels from Yemen's capital, Sanaa.
Whereas the Saudi government claim their campaign is aimed at restoring the government of Yemeni President Abdrabbuh Mansur Hadi, reports of civilian casualties have provoked uproar, particularly in regards to ongoing and abundant supplies of both US and UK weapons to the Saudi coalition.
"I think the [UK] government is engaged in conventional hypocrisy – they say they are concerned about human rights and claim they are raising such concerns, but they won't let it interrupt the next course in the dinner, as in what the next arms contract is," Stephen Bell told Sputnik.

15 October 2017, 01:04 GMT
"Successive British governments have often claimed that various Saudi monarchs are reformers, yet today in Saudi Arabia you cannot join a political party, you cannot join a trade union, there is no freedom of assembly, and political prisoners are subject to torture, whipping and also execution. So where is the reform?"
"The British government notion that they are somehow moderating and influencing Saudi policy does not hold up. They won't even suspend arms sales for serious investigation into breaches in international humanitarian law."
UN sources record over 14,000 civilian casualties since the beginning of the Saudi coalition's intervention in Yemen from 2015 onwards.
The conflict is also believed to have decimated Yemen's fragile infrastructure and health sector, causing the World Health Organization to declare the worst cholera outbreak in history as of October 2017.
Yet, according to statistics compiled by the Campaign Against Arms Trade, the United Kingdom has licensed 4.6 billion pounds worth of weapons sales to Riyadh since the conflict began, with the STWC citing the presence of British advisers directly involved in the military campaign.
Recent research, however, indicates that only a minority of the British population support continued arms sales to Saudi Arabia, with just 6 percent of respondents to a recent Populus poll being in favor.