"We… are spending a lot more time in the European theater," Richardson told members of the Hosue Appropriations Committee. "Carrier strike groups, for instance, that would just transit through the Mediterranean at maximum speed to get to the Middle East are spending much more time in the Mediterranean, not only contributing to Inherent Resolve, but also working the Russian presence problem in the Eastern Mediterranean, Black Sea, the Baltic, etc."
Richardson also noted that a "resurgent" Russia has ensured that its maritime forces, particularly in the field of anti-submarine warfare, remain robust.
"They [Russians] really have never taken their eye off the development and deployment of their undersea forces but they have really stepped on the gas and stepped that up both in technology and the capacity in the amount of time they are spending deployed," Richardson said. "That's exactly why are investments there are focused on anti-submarine warfare problem both enhancing our undersea sensors and infrastructure for our anti-submarine aircraft the P-8."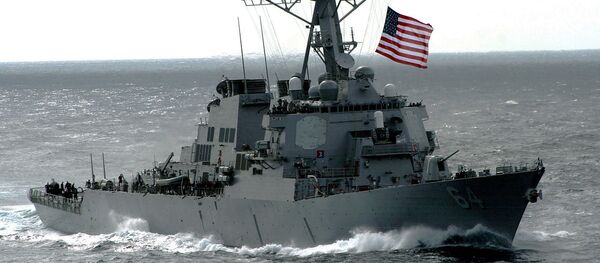 The former submariner added that the Navy was upgrading bases in Rota, Spain, as well as other ports to which the US Navy forward deploys. Speaking of upgrades, Richardsonsaid that the US Navy's railgun program had produced a high velocity projectile with a variety of applications, but noted that many engineering challenges still remain before the weapons system can live up to its billing.
"As a benefit of the railgun program, we have developed a high velocity projectile that is usable across the fleet in a number of different applications not only on the railgun," Richardson told US House of Representatives Appropriations Committee members. "Now we have to do the engineering to sort of crank it up and get it at the designated firing rates at the 80 to 100 mile range."
Richardson said engineering improvements must still be made to the barrel of the weapon itself.