In the video a combat robot is seen destroying an "enemy" rampart after which soldiers, clad in new combat uniforms, go on the offensive.
The Soratnik is the first robotic fighting vehicle developed and built by the Kalashnikov Concern.
Tracked and armored, it is designed to conduct reconnaissance and transmit data, patrol and protect territories and important facilities, carry out mine clearance and clear obstacles.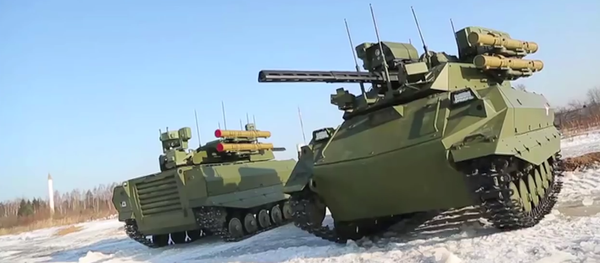 9 January 2017, 13:53 GMT
The 7-ton Soratnik  is armed with 7.62 mm and 12.7 mm machine guns, as well as an AG-17A 30 mm grenade launcher. It can operate remotely within a six-to-seven mile radius of the controller.
One design option under consideration is to mount eight Kornet-EM anti-tank guided missiles onto the vehicle.
Shortly after it was unveiled to the public during the Army-2016 forum, Kalashnikov CEO Alexei Krivoruchko announced the creation of the Nakhlebnik automated system, which is used as a platform for future combat robots.
The Group-99 multilayered combat outfit and state-of-the-art combat gear were also put to hard test at the range located just outside Moscow.
Kalashnikov also tested its new Tourist buggy, motorbikes designed for use by Special Ops troops, and Vityaz assault rifles.
READ MORE: Robocode: Russia Drawing Up 'Rules of Conduct' for Combat Robots