President Donald Trump insists that Germany and other NATO members "owe billions" to the NATO budget by falling short of their spending targets.
Addressing a Cabinet meeting in Washington on Thursday, Trump specifically mentioned Germany which he said has failed to bring its defense outlays to 2 percent of its GDP which is exactly what all NATO members agreed to do during their 2014 summit in Wales, Deutsche Welle wrote.
"If you look at NATO, where Germany pays 1 percent and we are paying 4.2 percent of a much bigger GDP – that's not fair," Trump said.
He added that "some friends and enemies" had "taken advantage" of the United States "on trade and on military."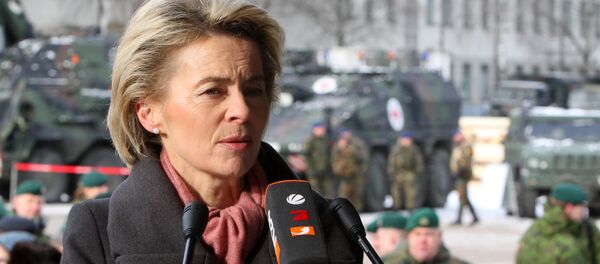 In 2017, Germany spenT a mere 1.13 percent of its GDP on defense with Foreign Minister Sigmar Gabriel arguing that the 2 percent target should be amended to include humanitarian aid and stabilization programs which he insists also contribute to collective defense and security.
Donald Trump is still insisting that that several NATO member states "owe billions," adding that "they haven't made payments."
Trump has made getting America's NATO allies to spend more on defense a central theme of his foreign policy, scolding fellow leaders on the need to boost their defense spending at their May 2017 meeting in Brussels.
"Twenty-three of the 28 member nations are still not paying what they should be paying and what they are supposed to be paying for their defense. This is not fair to the people and taxpayers of the United States," Trump said.
The United States, Estonia, Greece, Poland and Britain are the only five of NATO's 29 member states to have met the 2 percent defense spending parget target in 2017.
READ MORE: Money Comes First: Trump Claims 'Germany Owes Vast Sums' to NATO, US for Defense