"Today we are in Afrin, tomorrow we will be in Manbij, the next day we will ensure that the territory from the east bank of Euphrates will be cleared from terrorists up to the border with Iraq," Erdogan was quoted as saying by the Haberturk media outlet.
Speaking further, the Turkish head pointed out that the center of the Syrian city of Afrin was surrounded, adding that the Turkish forces were ready to enter it at any moment.
"Our target is Afrin. We have reached a good point. A total of 3,171 have been neutralized. Afrin's center is surrounded. We are ready to enter the center at any moment," Erdogan was quoted as saying by the Haberturk media outlet.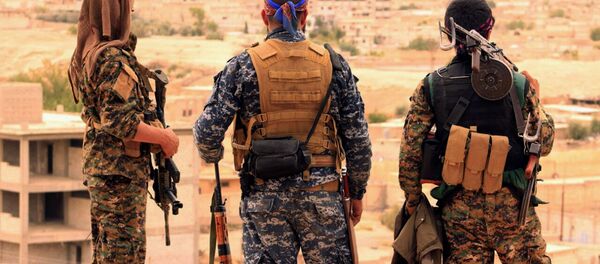 Meanwhile, the NTV broadcaster reported that the Turkish Armed Forces had entered the central districts of Afrin together with the Free Syrian Army.
Ankara launched operation Olive Branch in Afrin, in pursuit of "clearing" the Turkish border with Syria from the Kurdish People's Protection Units (YPG). Turkish authorities consider the YPG to be linked to the Kurdistan Workers' Party (PKK), listed as a terrorist organization by Ankara.
READ MORE: Turkey Urges US to Prevent YPG Redeployment From Syria's Manbij to Afrin
Damascus has firmly condemned the operation as an assault on Syria's sovereignty. Moscow, in turn, has urged all the parties to exercise restraint and called for respect of Syria's territorial integrity.