Qassem said that Hezbollah contributes to Lebanon's strength and stability, and that the group is a "pillar" in the country. Contrary to reporting by the western press, Hezbollah is "an integral part of empowering institutions, shaping future, maintaining independence and preventing the [Israeli] occupying regime."
"The United States is trying to subordinate Lebanon [to foreigners]. Israel and America spare no efforts to attack Lebanon and impose sanctions on us. Hezbollah, nevertheless, is an obstacle to the implementation of such policies," he declared in the southern Lebanese city of Nabatieh on Saturday.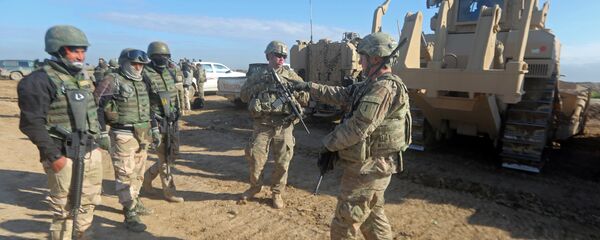 The official added that Hezbollah would deter any attempts at meddling in Lebanon's approaching parliamentary elections slated for May, and that he hoped the polls would be representative of the entire Lebanese nation.
"America seeks to meddle in these elections in order to reduce the number of our lawmakers and allied political blocs," Qassem stated, quoted by broadcaster Al-Manar.
READ MORE: Israel Holds Largest Joint Drills With US Amid Tensions With Lebanon
Addressing supporters via a televised speech from the eastern Lebanese city of Baalbek on February 24, Hezbollah leader Sayyed Hassan Nasrallah urged Lebanese citizens to participate in the upcoming May 6 elections.
"Voters should consider national interests when picking candidates and voting for them. People should approach the upcoming legislative polls from the perspective of fulfilling responsibilities towards the country," he stressed, adding that voters must not favor those who would hand over the country to the US, compromise oil reserves by any sort of alliance with Israel or conspire to destroy the country's economy.
Hezbollah is a Lebanon-based Shia group founded in the 1980s and has engaged in several military conflicts with Israel. The group is also supportive of incumbent Syrian President Bashar Assad, a representative of the Alawites, a Syrian Shia minority.